Lecture by Professor Daniel Bodansky launches The Road to COP 26/CMA 3 Preparatory Lecture Series
10 March 2021
On 26th February 2021 Professor Daniel Bodansky launched the The Road to COP 26/CMA 3 Preparatory Lecture Series with his lecture on the 'Road to Paris and Glasgow'.
Professor Bodansky's fascinating lecture attracted hundreds of attendees and prompted some great questions and comments from the audience. The full launch lecture is available to watch via the below Youtube link.
The Road to COP 26/CMA 3 Preparatory Lecture Series is a collaboration between the Centre for International Law-NUS, Durham Law School and the IUCN WCEL. Moving forward, this monthly series of lectures will provide an expert overview of the key issues that will be discussed during COP 26/CMA 3, in the context of past COPs and the UNFCCC/Paris Agreement legal framework. The lecture series is aimed at government officials, academics, NGOs and others who will be attending or are interested in COP 26/CMA 3. This series will offer expert insight into the working mechanisms and procedure of climate change COPs, how they function and what to expect from COP 26/CMA 3 from specific issues that are on the agenda. The full list of lectures is available to download via PDF: The Road to COP 26 Preparatory Lecture Series Programme.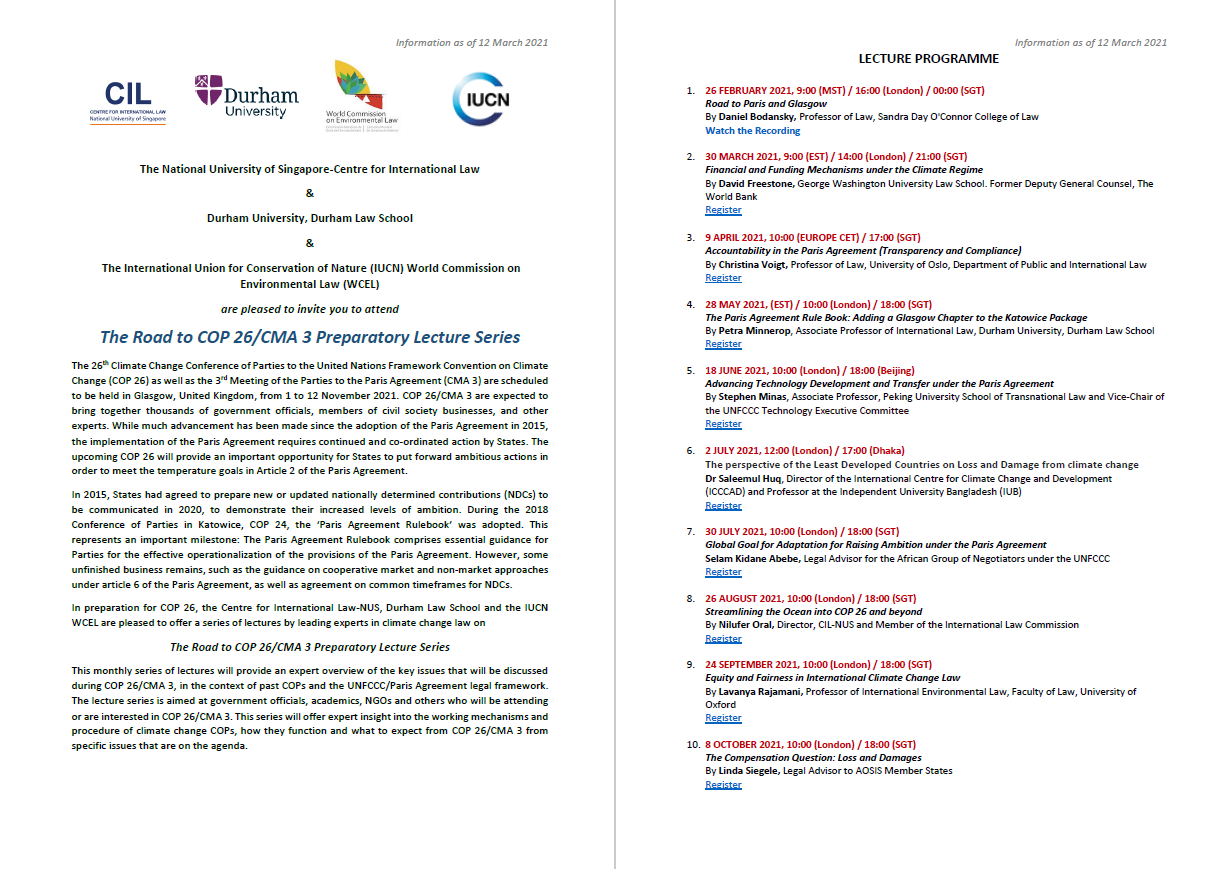 The next lecture in the series will be given by David Freestone (George Washington University Law School and Former Deputy General Counsel, The World Bank) on the topic of Financial and Funding Mechanisms under the Climate Regime via zoom at 14:00 (UK time), 30 March 2021. To attend this lecture please register here.