Dr Hannah Bows interviewed on ITV Tonight on coercive control and older victims
16 June 2022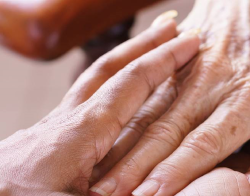 Dr Hannah Bows was interviewed on ITV Tonight on 5 May 2022, a programme which explored coercive control and included older victims, an oft-forgotten group.
Dr Bows said about the programme "We are getting better at understanding and recognising coercive control but older people are not generally considered victims or offenders. This ITV programme spotlighted this issue and highlighted the ongoing work to train professionals and raise awareness that coercive control can affect any age group."
"My research has shown that coercive control is not limited to younger people and increasingly evidence suggests older people can experience coercive control from partners, adult offspring and wider family members."
Dr Hannah Bows is currently an Associate Professor in Criminal Law and Director of Equality and Diversity within Durham Law School. She is Co-Director of the Centre for Criminal Law and Criminal Justice and Deputy Director of the Centre for Research into Violence and Abuse (CRiVA).
Her research interests are broadly located within the fields of violence against women, victimology, feminist and socio-legal theory.
The programme is available here