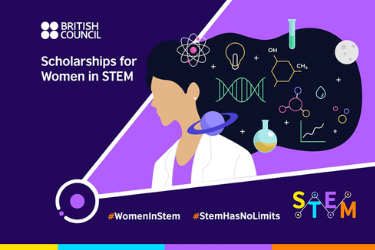 Durham Energy Institute (DEI) welcomes our 2021/22 cohort of British Council Women in STEM Scholars from the Americas who have joined Durham's MSc New and Renewable Energy.
Durham University, with support from the British Council, provided five fully-funded Energy Transition Masters scholarships for female students from the Americas starting in 2021. DEI was delighted to be supporting this initiative and to welcome the new scholars to Durham.
Throughout history there have been pioneering women in different areas of science, technology, engineering, and mathematics who have changed the world. Taking inspiration from them, we are delighted to be able to support these extraordinary opportunities for women in STEM (Science, Technology, Engineering and Mathematics) at Durham.
British Council Energy Transition scholarships
Five fully-funded scholarships were allocated to female students from the Americas interested in pursuing master's studies in the field of Energy Transition joining the MSc New and Renewable Energy based in the Department of Engineering. The six scholarships were on offer for applicants from the following countries: Argentina, Brazil, Colombia, Cuba, Jamaica, Mexico, Peru and Venezuela.
Each of these scholarships covers full tuition fees, monthly stipends, and a range of other excellent opportunities. Through the Durham Energy Institute, scholars will have access to strong networks across the energy industry, a chance to connect with industry mentors, and invitations to a regular programme of seminars, symposia and poster competitions.
These female scholars from Mexico, Venezuela and Columbia have a passion for renewable energy and solutions for decarbonisation and wish to inspire future generations of women to pursue careers in STEM. They are focusing their dissertations on research related to renewables, wind energy, heat and hydrogen, and CO2 capture.
Watch the British Council film of one of our Durham University STEM scholars, Ana Maria Villareal Vives from Mexico, explaining what is it like to study STEM in the UK.
Meet the scholars
Ana María Villarreal Vives

LinkedIn profile: www.linkedin.com/in/anamvv

"My name is Ana María Villarreal Vives, I was born in Morelos, México and studied Engineering in Sustainable Development at Instituto Tecnológico de Monterrey (Tec de Monterrey).

I joined the renewable energy sector in 2017, where I found a great passion for this topic. I started working as a technical advisor in the Sustainable Energy Programme at the German International Cooperation Agency for Sustainable Development (GIZ). This programme was implemented jointly with the Mexican Ministry of Energy (SENER). At GIZ, I also worked at the Large-Scale Solar Energy Program (DKTI-Solar) and at the Trilateral Cooperation between Mexico, Germany, and Cuba.

Before coming to Durham University to study MSc New and Renewable Energy, I worked at Iniciativa Climática de México (ICM), a Mexican NGO dedicated to reducing Mexico's greenhouse gas emissions, as a research associate for the project "Financing the Access of Distributed Renewable Energy Generation in Mexico (FATERGED/CSOLAR)".

I hold a certification as moderator for Energy Efficiency and Energy Management Systems' Learning Networks by the Mexican Commission for Efficient Use of Energy (CONUEE) and GIZ. I also hold a certification as Climate Leader by the Climate Reality Project and former USA vice president Al Gore. I am part of the Women Network in Renewable Energy and Energy Efficiency (REDMEREE) in Mexico.

My dissertation topic for the MSc New and Renewable Energy at Durham University is "Heat utilisation from 100MW hydrogen electrolysis plants powered by renewables."

Evelyn Corrales

"My name is Evelyn Corrales, I am from Mexico and am currently studying a MSc in New and Renewable Energy at Durham University thanks to British Council Scholarships for Women in STEM. I have a degree in Process Technology Engineering, my experience includes Laboratory Research Assistant in Advanced Material Research Center (CIMAV) in thin-film solar cells research. I was introduced to several operations and learnt to optimize and improve energy efficiency and troubleshoot the overall process. Additionally, I also worked as wire design engineer at Safran Electrical & Power mostly focused on the route of electrical design. I am interested in using technology to provide smart and cleaner energy solutions.

I have just started working on my dissertation project focused on Digital Twin Turbines, essentially the prime objective is creating a virtual model using data of a physical asset and perform machine learning techniques to monitor the health and behaviour."

Lina Salamanca Torres

LinkedIn profile: https://www.linkedin.com/in/lina-paola-salamanca-torres-aa5996166/

My name is Lina Salamanca Torres, I'm electrical Engineering from Colombia, and I am currently coursing my master's degree in New and Renewable Energy at Durham University.

For me, it's an honour and pleasure to be part of Women in STEM and Durham University.

My work experience has been in the oil sector for almost 10 years. I started my career as an intern at Occidental de Colombia, most of my work experience has been focused on two areas: the first is planning, scheduling, and implementation of preventative, corrective, and predictive maintenance in different areas. The second is in power generation, where I have provided support in energy matters in the Llanos Norte field, also, I have participated in a program with the aim to improve the reliability of the electrical system in the field of La Cira in Colombia.

I am especially interested in wind farms and renewable energy, and I'm really excited because I can work on my dissertation on the topic: Erosion modelling repair and annual energy production for offshore wind turbines, I chose this project due to my passion for wind turbines and my experience in maintenance areas.

Melissa Pardo Altamar

LinkedIn profile: www.linkedin.com/in/melissa-pardo-altamar-617ab1146

My name is Melissa Pardo Altamar, I was born in Cereté – Colombia. I am 26 years old. I studied Petroleum Engineering in Universidad Nacional de Colombia (National University from Colombia) at Medellín. In my last semester I developed my dissertation project in a porous media analysis in the presence on Nano-polymers, and my dissertation was awarded as Best dissertation project from 2017.

In 2016, before completing my university, I went to the United States of America as an Au Pair; an experience that galvanized my passion for learning and it enhanced my interpersonal skills.

I joined the Energy sector since 2018, when I joined Halliburton – Colombia and worked there for 2.5 years. Afterwards, I decided to pursue my dream of studying Renewable Energy abroad; and after a competitive selection process I was awarded by the British Council as a Women in STEM scholar, a bless that has been lifechanging and a booster to accomplish my goals.

I am currently working on my dissertation project for the MSc New and Renewable Energy at Durham University, where the main purpose is to develop a numerical simulation for a CO2 absorption tower in MATLAB, and it will be conditioned using historical pilot scheme data from the literature.

Yngrid Machado

LinkedIn profile: https://www.linkedin.com/in/yngrid-machado/

I am Venezuelan, married, mother of two beautiful kids, a 9-year-old boy and a 13-year-old girl. I am passionate about everything I engage. I am in love with my family and my profession. I love nature, dancing and sharing with friends.

I have 18 years experience working in the Oil & Gas industry, mainly in the refining area. As lead process engineer I have been responsible for providing engineering support in developing Engineering Packages during Visualization, Conceptualization and FEED phases. One of my biggest achievements was being part of a team that developed an Oil Deep Conversion technology to convert heavy crude oil into products of high value. Assuming different roles from the initial phase of the project has allowed me to gain skills to take a project from concept through to practical delivery.

Renewables energy is now my passion. My energy interests include decarbonising heating and cooling, clean power generation (wind), carbon capture and storage, energy storage, waste processing and hydrogen production. My dissertation project is focused on 'Characterisation of desiccant solutions for temperature and humidity control application.'
South Asia Scholarships currently available
Durham University is currently advertising the next round of British Council Women in STEM scholarships. Five fully funded scholarships for female students from South Asia interested in pursuing master's studies in the 2022/23 academic year. The five scholarships are on offer for female students from the following countries: Bangladesh, India, Nepal, Pakistan and Sri Lanka
Find out more about the British Council STEM Scholarships for Women from South Asia