DUEM voted 2021 Environmental Society of the Year by Bright Network.
4 February 2022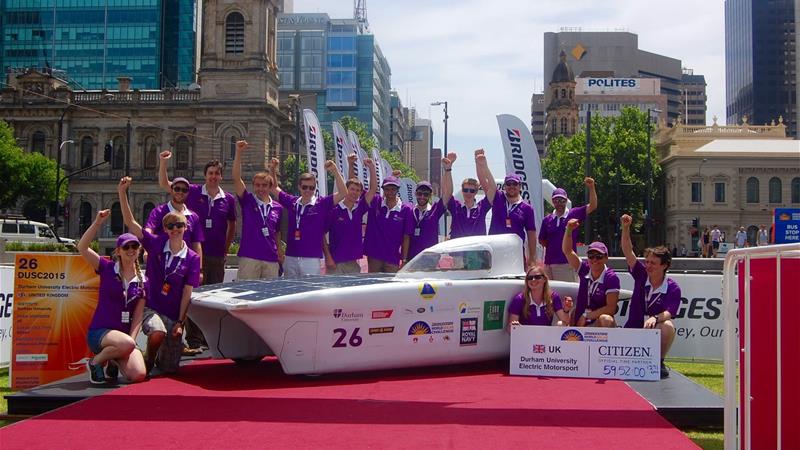 Durham University Electric Motorsport (DUEM), the Durham University student society which builds and races solar cars, have been selected as the 2021 Environment Society of the Year by Bright Network, sponsored by Openreach.
DUEM is a student run and student led team, supported through the Department of Engineering, who design and build solar cars which they race in international events against other world-leading solar teams.
They are the UK's longest running team of its kind. 2002 saw the very beginnings of solar car at Durham University as the Formula Student team began to focus on electric motorsport, inspired by the world's migration towards an increasingly sustainable and brighter future. Since founding the group they have developed 5 generations of solar car, racing in 2008 across North America and in 2011, 2015, 2017 and 2019 in the Bridgestone World Solar Challenge across the Australian Outback. Their ever-growing team has 50 members from different departments across Durham University.
The Bright Network award is acknowledgment of the strives DUEM has made over the past year in driving forward the implementation of green technology in transport as well as the work they have done in spreading sustainability awareness through the education of young students at a multitude of community outreach events and school visits. Talks to over 1,500 students have been undertaken in the last 6 months alone, with plans to continue their outreach efforts alongside their technical innovation as a solar car race team.
Tommy Osrin, Head of Business for DUEM and Mechanical Engineering student at Durham University said:
"We are absolutely thrilled by this result. None of this could have been possible without the help of Durham University's Department of Engineering, Professor David Sims-Williams DUEM's Faculty Advisor and Durham University's Deputy Head of Engineering and our title sponsor, Tailwind Energy!

We would also like to give special thanks to the Durham Energy Institute who not only supported our bid for the Environment Society of the Year Award, but who have also presented us with multiple opportunities within the sustainable energy sector, from arranging a talk with a world-leading tech start-up to providing avenues to showcase our innovative work at international events."
Find out more about DUEMs activities and plans for their next international race.
Swindon Festival of Tomorrow
Professor David Sims-Williams, from Durham University Department of Engineering, and the DUEM team will be presenting at Swindon Festival of Tomorrow on 26th February from 2pm to 2.45 in a hybrid event called 'Creating a Solar-Powered Car to Cross Australia'. Their latest solar car design will also be on display. In-person tickets are only £4 for over 18s and free to under 18s or you can book to watch online. Book your place now at https://www.festivaloftomorrow.com/#Programme2022