We are delighted to announce the appointment of DEI Advisory Board member Helen Goodman as Professor in Practice in SGIA
10 March 2022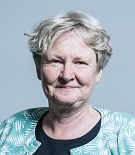 Helen will draw on her experience to undertake an inaugural guest lecture which will form part of our new student-focussed seminar series. She will work closely with us to develop our research and links to external partners. Working with Helen, we will also develop a new taught postgraduate programme.
Dr Gidon Cohen, Head of Department in the School of Government and International Affairs said;
"We are delighted to welcome Helen as Professor in Practice within the School of Government and International Affairs. Helen brings tremendous experience to the school, and our students will benefit enormously from Helen sharing her insights and knowledge. We look forward to developing our relationship further with her through this role."
We look forward to working closely with Helen throughout her three-year tenure.
About Helen Goodman
Helen was the Member of Parliament for Bishop Auckland for 15 years 2005-19. She was a Minister in the Labour Government of Gordon Brown 2007-10 and served as a shadow Minister with various portfolios, including Foreign Affairs. Helen sat on two important select committees: Treasury and Public Accounts.
She is an expert on Parliament, having been Deputy Leader of the House and a longstanding member of the Procedure Committee and was instrumental in the innovations during the Brexit debates. Previously she worked in HM Treasury for 16 years and was seconded to the Office of the Prime Minister of Czechoslovakia after the Velvet Revolution in 1990.
Find out more
Our School of Government and International Affairs is ranked 1st in the UK for Politics Graduate Prospects in the Complete University Guide 2022.
We are a research-intensive department that uses innovative teaching techniques to ensure we combine our latest world-leading research into the programmes we deliver.