DEI Celebrates International Women & Girls in Science Day
11 February 2021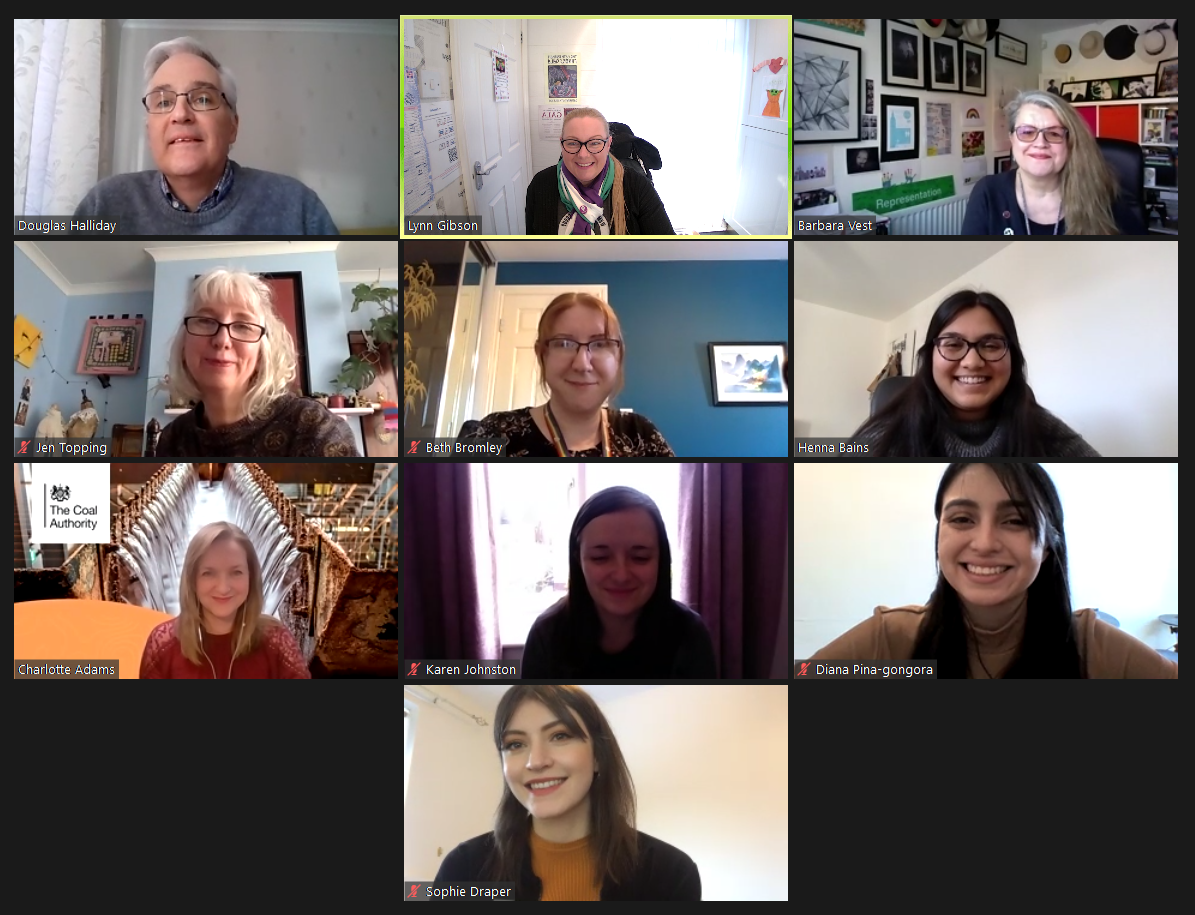 On 11 February 2021, 181 school pupils and teachers joined Durham Energy Institute and our Energy Centre of Doctoral Training to celebrate International Women and Girls in Science Day!
Durham Energy Institute and the Centre of Doctoral Training in EnergyMultidisciplinary Centre for Doctoral Training in Energy held a fascinating panel discussion event, with panellists from biology, chemistry, physics, geology and engineering to encourage students into STEM subjects.
With thanks to teachers and pupils from Bishop Barrington, Durham High School for Girls, Durham Johnston, Durham School, Durham Sixth Form Centre, Framwellgate Moor School, George Stephenson High School, Gosforth Academy, Hermitage Academy, North Durham Academy, Parkside Academy, RGS Newcastle, St John's Roman Catholic School, St Thomas More Catholic School, West Lakes Academy, Whickham School, Whitburn Academcy & Whitworth Park Academy.
The informal and interactive discussion session was an opportunity for school pupils to hear from inspirational role models, discover career options they might not have previously been exposed to, ask questions, and be inspired.
The panel event was chaired by Dr Barbara Vest OBE, who is a member of the Advisory Board at Durham Energy Institute and the former Director of Generation at Energy UK.
The panellists included:
Dr Charlotte Adams, a Geologist who recently moved from Durham University to The Coal Authority whose current research is looking at abandoned coal mines and how the warm water in the flooded mines might be used as a carbon neutral heating source.
Dr Beth Bromley, is an associate professor in the Department of Physics. Her research centres around bimolecular design approach to synthetic biology and she is currently researching the design of a novel protein based motor that walks along DNA.
Dr Karen Johnston, a Chemist who moved to Durham in 2015 and worked previously in Canada and France. Karen's research looks at new materials for lithium batteries in order to make more efficient batteries for laptops and phones that will be used by everyday people.
Dr Jennifer Topping is an Associate Prof in Biosciences whose research area is plant development, understanding how plants grow the way that they do. Jen also does a lot of teaching and her thing to do is work with the students to help them plan their own research projects.
Henna Bains is a PhD research student in Engineering and Maths. Her research looks at offshore wind energy and connecting them to homes cost effectively and reliably. When Henna was in school she wasn't sure if she wanted a career in science, but was very curious about how things worked, and was always asking 'why'!
Sophie Draper is also a PhD researcher in Engineering, looking and offshore and onshore wind turbines, in particular the generator which converts the energy into electricity. At school she loved art and physics, and
Diana Pina-Gongora, another PhD researcher in Engineering, who is from Mexico and works with offshore wind turbines and the external factors which impact their performance plus making them cost effective.
"The interactive and engaging virtual event was well attended, with over 180 participants".
The event kicked off with introductions from Prof Douglas Halliday and Dr Barbara Vest OBE. Following this, each of the seven panellists briefly introduced themselves, before moving to the question-and-answer session, which Barbara chaired. Pupils sent in many questions, and during the event, the panellists discussed a range of topics from subject choice dilemmas to important skills for your job. Barbara closed the event with ' Remember, you don't have to be the best, you just need to have a passion in the subject'. Hopefully, this event for International Women and Girls in Science Day was inspiring to the audience and gave the pupils an insight into the range of career paths available in science.
With over 100 questions in the chat it was impossible to get through all the questions. Below are some of the questions that were asked…
Are there any jobs in science that involve drawing so I could combine my interests?
Sophie – Also enjoyed art in school and does a lot of art now. She found she was able to bring her creativity into Engineering, and could draw the theory she was learning. Also CAD software can be used for digital drawing which combines art and science.
Charlotte – a lot of scientific choices have a degree of creativity. Charlotte chose geology as it is quite a creative science and often uses 3D drawings to bring things to life. While she was doing her undergraduate degree she also did a fine art class at college.
I want to be a biochemist. Is it better to do a degree in biology, chemistry or biochemistry?
Charlotte – at university I wanted to do geochemistry, so studied geology and chemistry as it wasn't available at the time, so check that doing separate subjects will get you onto the career path you want to do.
Henna – My sister is a biochemist. She told me that biochemistry is 75% chemistry, and in order to do biochemistry for a career, it would be best to do a degree in biochemistry or chemistry.
Would you recommend going into a career of research to someone studying physics? If so, who would fund the research and is it a stable career financially?
Beth – research is funded by a wide range of funding sources, mostly from the government and industry. Highly recommends a career in research, it can happening universities as well as industry and start-up communities so there is a lot of opportunity in a research based career. Technology is continuing to boom so there is stability in this career.
What subjects did you enjoy at school and how do they feed into your job?
Henna – maths was my favourite subject, all of my work builds on statistics and probability so uses the skills I have learned throughout my academic life and feed it into my research.
Beth – I enjoyed domestic science and found this area crossed over with science in my research
What skills are important for your job?
Charlotte – things you weren't necessarily taught, but skills you pick up by playing with Lego and fixing things as well as problem solving skills
Why did they choose Durham University as a link to their profession and how did it compare to other competitive universities?
Sophie – Durham has strong research in renewable energy and I enjoy the interdisciplinary and collaboration across subjects. Lots of opportunities to collaborate with other department and hear talks on other subjects.
I'm strongly interested in a career in biology, but are not very confident with chemistry or physics. Are all 3 sciences needed for a career in bio?
Jen – no, you need to have a fundamental knowledge (school) of chemistry and maths. All students who come in who feel they need a little more knowledge, can have this taught as part of the degree.
I would love to do neuroscience PhD research in the future and teach at Uni at the same time. What is it like handling these two at the same time?
Beth – I did a bit of teaching during my PhD research and it can be very beneficial to be engaged in teaching during your research.
Is there a better PhD research to take for a higher level job or does all PhD have the same level?
Beth – A PhD is an opportunity to gain the skills you want for the future, be that in academia or industry. You should think about the skills you need for the career you want, and what type of research you need to do this.
Henna – the topic should be something you really enjoy, because looking at something really closely for 3-4 years you need to enjoy it.
What advice do you have for a student struggling to choose between a medical degree or a chemistry degree?
Henna – didn't have this specific problem, but generally try and find people who have done both degrees and ask them questions, taking in all the information to help form your decision.
Jen – take your time, it is possible to do both. It might seem a long way away, but you can do a chemistry degree then transfer into medicine.
I'm very interested in biology and physics, what types of jobs would you recommend that include both or one of them?
Sophie – medical physics combines these two areas as does medical engineering.
Karen – here at Durham we do a natural sciences degree which combines all the sciences.
I really want to be a vet so do you have any advice for that?
Henna – You should try and get some work experience at a local surgery
I do A-level French and I heard Karen mention that she worked abroad, do you think a language would help in a career in science?
Karen – a language will definitely help if you want to work abroad.
Diana – as a Mexican student we are encouraged to learn another language. It is important to be able to communicate with people in other countries.
I really enjoy Chemistry and Biology and would like to become a pharmacist, are there any courses at Durham University?
Douglas – this course was recently moved to Newcastle University when the Stockton campus was relocated to Durham.
Beth – there are lots of comments in the chat saying things like "I'm not confident", "do I need to be assertive", "I'm not very good at…". Do not judge your own ability on the people around you and your perspective of how good they are. I would encourage everyone to make sure they are not doing themselves down in their own heads, particularly when choosing a-levels, and do not 'not' study a subject just because you are not the best, passion in a subject will help you go far. Marks on a paper are minor to dedication and passion.
Charlotte – do not give yourself a hard time, it is important to seek out people who you can use as mentors, in school/Uni and in work. Charlotte has had fantastic mentors, so seeking out people who are willing to work with you – someone has got to where they want to be, and are willing to share their experience to help you get to where you want to be.
Sophie – it is about the passion. When studying physics, my teacher told her I would need to get better at maths. I was in a bottom set, but I worked hard to improve and now I really enjoy maths. Also, apprenticeships are a great option to get into science, not just university.
If you choose a general branch of a degree, and then decide to specialise, what is the transition like?
Jen – If you came to Durham, then most of the degree courses are quite general in the first year and are all modular – you get a taste of what you are interested in and find you can change direction very quickly once you progress through your first year. Transition is easy as it's almost expected.
Henna – I transitioned from Maths to Engineering and wasn't sure about it at the time. You take the skills you have, and the move is simple.