Energy Transition opportunities for women in STEM
14 January 2021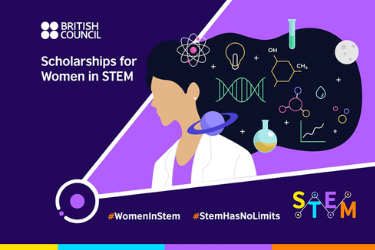 Durham University, with support from the British Council, is offering six fully-funded Energy Transition Masters scholarships for female students from the Americas! DEI is delighted to be supporting this initiative.
Throughout history there have been pioneering women in different areas of science, technology, engineering, and mathematics who have changed the world. Taking inspiration from them, we are delighted to announce the latest in a range of extraordinary opportunities for women in STEM (Science, Technology, Engineering and Mathematics) at Durham.
British Council Energy Transition scholarships
This year, gratefully supported by the British Council, we are able to offer six fully-funded scholarships for female students from the Americas interested in pursuing master's studies in the field of Energy Transition. The six scholarships are on offer for applicants from the following countries: Argentina, Brazil, Colombia, Cuba, Jamaica, Mexico, Peru and Venezuela.
Each of these scholarships covers full tuition fees, monthly stipends, and a range of other excellent opportunities. Through the Durham Energy Institute, scholars will have access to strong networks across the energy industry, a chance to connect with industry mentors, and invitations to a regular programme of seminars, symposia and poster competitions.
We are looking for women with a background in STEM, who can demonstrate their need for financial support and who, crucially, wish to inspire future generations of women to pursue careers in STEM.
Check the link below to see whether you are eligible.
Women in STEM scholarships
Thanks to the generous support of our alumni, the Faculty of Science is offering a Women in STEM scholarship for undergraduate degrees in the faculty.
See the link below for more information and eligibility criteria.
Computer Science
Spearheaded by our Computer Science Professors Sue Black and Alexandra Cristea, our TechUP programme is giving 100 women the opportunity to retrain in tech with an interview for an internship, apprenticeship or job role at the end of the programme.
The University, together with a group of 16 industry partners, has received over £500,000 from the Institute of Coding (IoC) to launch this exciting programme and retrain women in technology.
The Department of Computer Science is also able to offer Anne-Marie Imafidon Scholarships (AMI Scholarships) for Women in Technology. These scholarships, again supported by the generosity of our alumni, are aimed to support and encourage women to study Computer Science at Durham.
The shortage of women in STEM subjects has been a topical issue across the world, and we are keen to attract and support more women into scientific disciplines to ensure a diverse and vibrant network is sustained across academia and industry in the future.
Find out more