Caring for Brutalism: Dunelm House
Update: 9 July 2021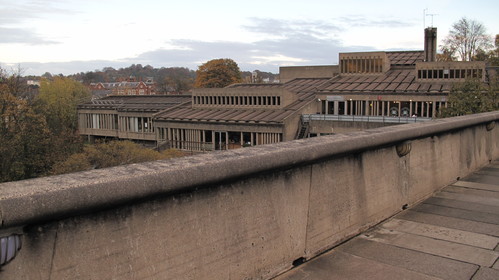 The Secretary of State for Digital, Culture, Media and Sport has granted Grade II listed status to Dunelm House. A press release by the C20 Society can be read here. The C20 Society have referenced the conference hosted by CVAC in the press release and the programme for the event held in 2017 is below:
Adrian Green
, a historian of architecture based at the
Deptartment of History
at Durham University, said: "The 'Caring for Brutalism' conference held in Dunelm House in October 2017 brought together experts on Brutalism and Post- War university architecture. The conference made plain the outstanding significance of Dunelm House and its special place in the history of Durham University. It was built to embody 1960s values about turning students into cultivated citizens. The building was erected with public funds from the University Grants Committee, responding to the Robbins Report on University Education. The engineer Ove Arup commented – 'There are two routes to happiness. One is to grab directly, the other is to recognise ourselves in human community.' For Arup, Dunelm House and Kingsgate Bridge embody the latter. Dunelm House is a unique 20th Century expression of a long architectural tradition in Durham – of a human community gathered around a Cathedral. The building was self-consciously designed to bring about a sense of human community, and provides wonderful views of the Cathedral. Listing the building not only secures its future, but will encourage the appreciation of this international quality building as a cultural asset."
Caring for Brutalism - Day Conference in Durham
21st October 2017, 10:15 to 17:15, Elvet Riverside 201
Sponsored by:
Durham University, Centre for Visual Arts & Culture, Durham City Trust & The 20thCentury Society.
Open to the public. Free to attend. This event is now closed.
This day conference will consider the current question of 20th Century concrete architecture and its conservation. Brutalism was an important aspect of post-WWII architecture, especially in the UK. As these buildings become historic, they face urgent questions of conservation, regeneration or demolition. Although never a popular style, many with a training in architecture regard Brutalist buildings as possessing unique aesthetic merit. Their beauty often relates to medieval architectural forms, drawing on the Gothic in ways comparable to Modernist architecture's relationship to Classicism. Durham contains medieval architecture of world importance that is valued and protected accordingly. The fate of the most significant 20th Century building on the university estate, however, is uncertain, and the future of Dunelm House is currently part of the national conversation around questions of how and whether to care for concrete buildings. Regeneration is possible, as with The National Theatre in London or Apollo Pavilion, Peterlee. Alternatively, demolition may be justified, as with the "Get Carter" Car Park, Gateshead. This conference brings together leading experts on 20th Century concrete architecture in the UK, to explore issues of aesthetic appreciation, cultural value, and the criteria by which university, civic and national communities decide to conserve architecture.
The day will include a tour of Dunelm House.
Confirmed Speakers
John Allan (Conservation Architect)
Barnabas Calder (Liverpool University, author of Raw Concrete)
Catherine Croft (Director, 20th Century Society)
Alistair Fair (University of Edinburgh, on post-1945 university architecture)
Elaine Harwood (Historic England, author of Space, Hope & Brutalism)
Martin Roberts (Durham, author of Buildings of Durham University)
Programme of the day
10:15 Coffee
10:45 Opening Remarks
Establish clear parameters for discussion & questions to address: aim is to understand the historic context for Brutalism in Britain; to understand its aesthetic value, and why this is often contested; to explore conservation issues for concrete structures as they become heritage buildings. The aim of the day is an academic event that promotes informed discussion and understanding about a significant issue in contemporary and historic visual culture, not a polemic or a campaign. The conference is about Brutalism in general, and Dunelm House in particular.
11:00 -12:00 Brutalism in Britain
Session Chair: Alan Powers
Elaine Harwood 'The Beginnings of Brutalism and Dunelm House'
Barnabas Calder 'The Architecture of Optimism: Dunelm House and High Brutalism'
12:00 - 12:15 Break
12:15 - 13:15 Conserving Concrete Structures
Session Chair: Douglas Pocock
Catherine Croft 'Why Save 20th Century Buildings? With a Footnote on Successful Concrete Conservation'
John Allan 'Case Study: The Conservation of St. Peter's, Cardross'
13.15 - 14:00 Lunch (delegates to make their own arrangements)
14:00 - 15:00 Tour of Dunelm House
15:00 - 16:00 Brutalism in University Architecture
Session Chair: Adrian Green
Alistair Fair 'Environments for "Cultivated Men and Women": British University Architecture, 1945-75'
Martin Roberts 'Traditionalists and Modernists: Durham University's Post-War Architects'
16:00 - 16:15 Break
16:15 - 17:15 Round Table Discussion
Chair: Ludmilla Jordanova
17:15 Close