PGCE Secondary - Chemistry
Begin your career as a secondary school science teacher with this QTS–registered course.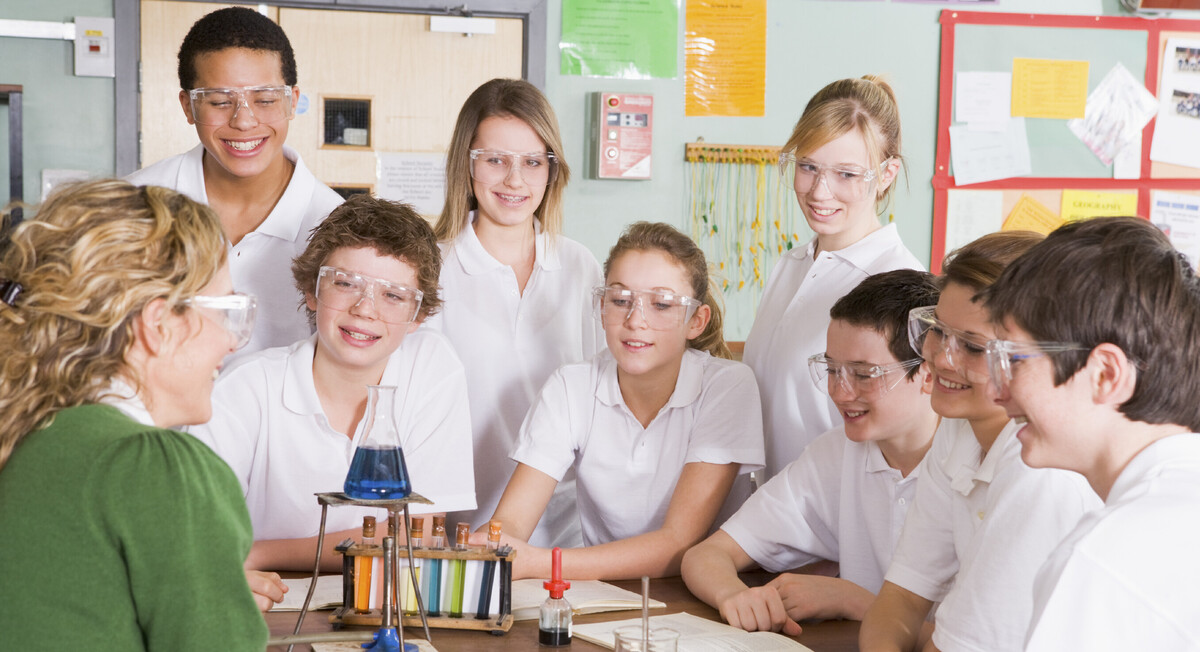 1
Course details
The PGCE Secondary Chemistry course is the first phase of three-year entitlement for beginning teachers. The first phase of the entitlement is the Core Content Framework and this is embedded into all of our ITE courses. The PGCE Secondary Chemistry course is accredited by the DfE, and upon successful completion you will be recommended for Qualified Teacher Status (QTS). During our last Ofsted Inspection, we were graded as "Outstanding" for all aspects of our provision.
Subject pedagogy (how to teach the subject for understanding) is explored in an innovative university / partnership model known as the POD (Professional Opportunities and Development). The POD involves a 'hybrid space' where university tutors and classroom practitioners work together. This model provides trainees with the 'best of both worlds', opportunities to work with research relevant university professionals with an abundance of experience in teacher training and school practitioners with experience of delivering the National Curriculum and experts in current classroom practice. The ITE course is delivered using a blended approach and follows a 'knowledge rich' curriculum that is current and evidence based.
The Durham University curriculum is known as the RRPP – Research Related Professional Practice. It develops key ITE themes that reflects the Core Content Framework; starting through a genric lens and progressing to a subject specific viewpoint which is then supported with concrete examples in a school environment (POD).
The main POD schools are Sedgefield Community College and King James 1 Academy in Bishop Auckland however there are a number of regional schools who contribute to the overarching programme.
Beginning teachers work in classrooms in POD schools with expert staff to develop teaching skills, knowledge and understanding that are observed, deconstructed and analysed and that can the be applied during their own teaching placement.
We believe strongly that to be able to teach successfully you must acquire a good understanding of the 'big ideas' of science as well as learning about how to teach science. Core Science addresses your own understanding of the key concepts underpinning science, covering substantive and procedural knowledge in detail. We utilise research and evidence-informed progression toolkits for key concepts in science to provide:
Appropriately-sequenced steps for learning progression
Diagnostic questions to reveal preconceptions and common misunderstandings
Response activities to challenge misunderstandings and encourage conceptual development
Course structure
The course is organised into three modules:
Professional Issues in School-based Education
Teaching and Learning in the Curriculum
Self-directed Study
The Professional Issues in School-based Education relates to the Durham University ITE Curriculum and is delivered through the Research Related Professional Practice programme (RRPP).
The RRPP is designed to bridge the gap between research and professional practice. It encourages trainees to focus on key subject specific threshold knowledge linked to deep thinking in terms of how to teach in order to have maximum impact on pupil learning.
Teaching and Learning in the Curriculum and Self-directed Study assignments are studied at Masters Level. The Teaching and Learning in the Curriculum Module draws on the international research expertise within the School of Education enabling student teachers to engage critically in issues relevant to the classroom and school community, particularly those that impact on the success of children as learners.
The Self-directed Study module draws on aspect of teaching and learning in a small-scale action research piece of work, and links this to critical engagement with published educational research.
These Masters modules provide an opportunity to consolidate theoretical knowledge, through lectures and mixed subject and phase seminar groups taught during a Reflective Practitioner Conference. In addition to covering Teachers' Standards, these modules will enable assessment work to be carried out for the award of PGCE.
On successful completion of the course, our beginning teachers have 90 credits and QTS.
Students who have successfully completed the PGCE at Durham in the previous academic year have the option to use 90 credits they have accredited towards a part-time MA Education. These students only need to do the core modules, Education Enquiry and the Dissertation over 2 years, to complete the course.
Visit Us
The best way to find out what Durham is really like is to come and see for yourself!