Durham University Business School: Waterside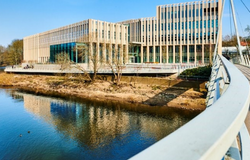 Durham University acquired the Waterside Building in Durham City from Durham County Council as a future location for our world-class Business School on Monday 31 October 2022.
We are pleased to have reached this important milestone. This will ensure our Business School will continue to thrive. It will also bring significant economic benefits for the city, county and region.
We are making very good progress with the project and continue to engage with our Business School staff and students as plans develop.
Waterside Building
If you're a member of staff at Durham University Business School, visit our SharePoint site for more information