The panel includes experts Sarah Dack from Public Health England & Ian Martin from the Environment Agency who will join Karen Johnson (Engineering) & Lynsay Blake (Biosciences) to discuss the links between soil and human health and how soil is the basis of both our health and wealth. Exploring both the positive & negative links between soil and human health, we will consider how by using wastes as resources and aligning with the circular economy, we could boost both soil health and human health.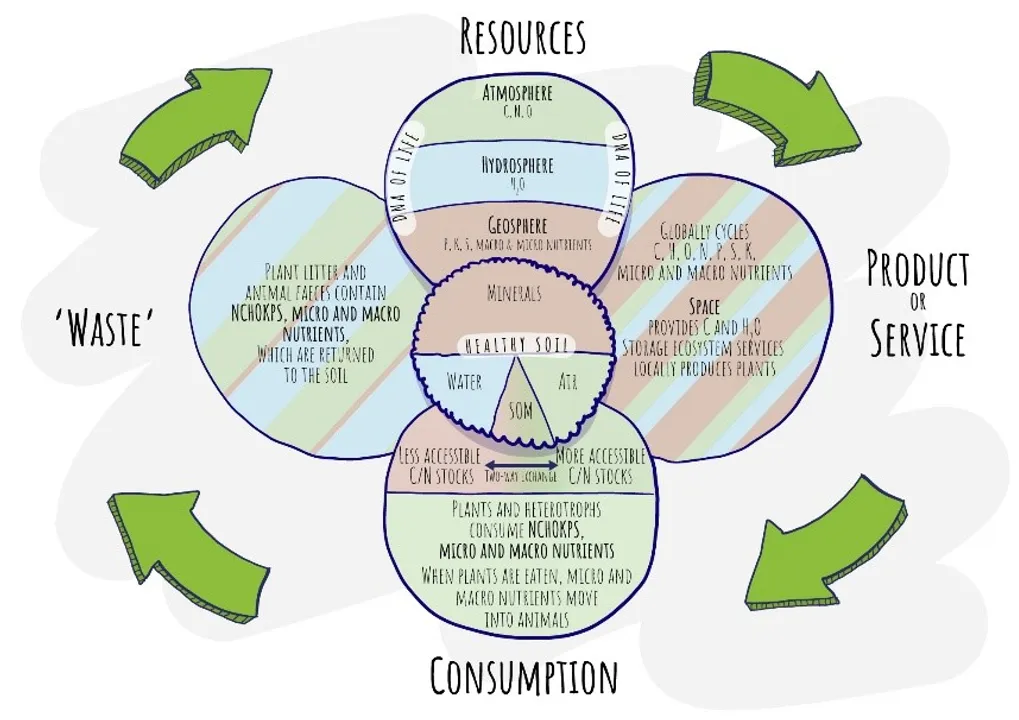 Soil and human health graphic
Please note: this panel discussion will be rescheduled to a later date due to illness.
Lynsay Blake (Biosciences) – Lynsay has always been fascinated in the interactions humans have with nature and the environment. Her research reflects this interest. She investigates the roles microbes have in natural and engineered systems. Asking questions about how microbial community structure and function change under perturbation, what implications these changes might have across different scales, but also how we might utilize the power of microbes to change our municipal or agricultural practices to safely eliminate the production of waste.
Karen Johnson (Engineering) - Karen is passionate about soils and working with partners across the world to rebuild degraded soils. She studied Natural Sciences and worked in the Water Industry before moving to Durham as an environmental engineering lecturer. She believes rebuilding soils will help with delivering the UN's 17 Sustainable Development Goals. She has worked with the UK Government, helping to launch the UK's Soil Health Inquiry back in 2016 and is now just starting to work with the UN on a rebuilding soils agenda. Her main scientific expertise is in carbon sequestration on minerals like iron and manganese oxide and she is interested in how this science can help us use soils to achieve net zero by 2030. But this is not just a technical matter, the rebuilding soils agenda involves working with social scientists, businesses and communities as well as many other disciplines, and this interdisciplinarity is at the heart of what she does
Sarah Dack (Public Health England) - Sarah is a Specialist Environmental Public Health Scientist at Public Health England's (PHE) Centre for Chemicals, Radiation & Environmental Hazards (CRCE). She is a Chartered Geologist, SiLC and previously worked in environmental consultancy as a risk assessment specialist. At CRCE she leads on contaminated land and water for her department, dealing with incident response and enquiries from internal and external partners on a range of topics. She has remained involved in risk assessment whilst at CRCE, with input to industry publications on Ground Gas assessment and Acute Risk assessment as well as being involved in the EU COST ACTION – IS1408 - Industrially Contaminated Sites and Health Network (ICSHNet). Her involvement in soils has been via the remediation of contaminated land, as well as the influence of blue and green infrastructure on mental health and wellbeing, and as a mitigation for the health effects of climate change.
Ian Martin (Environment Agency) - Ian studied chemistry and geology at Leeds and completed a masters in environmental science at Nottingham before joining the scientific civil service in the early 1990s. He is currently a Senior Specialist (Land team) in the Chief Scientist's Group at the Environment Agency. He has worked at the technical-policy interface on the assessment and remediation of contaminated soils for 30 years including the development of the CLEA model and the implementation of regulatory guidance for the contaminated land regime (Part 2A). In the last 10 years, his focus has shifted to the prevention of soil contamination from the recovery of waste-derived materials to land, where the emerging issues for health and the terrestrial environment are increasingly complex (for example, mixtures, PFAS, pharmaceuticals, antimicrobial resistance, and plastics).
To book a place at this event please visit our EvenBrite page.