Engineering Exchange Opportunities
(2022-2023)
Overseas Studies Option
The MEng with Overseas Studies Option allows students to spend an additional year between second and third year of the MEng programme at a partner university abroad, and return to Durham for third year.
Adding this additional year, making course 5 years total as engineering recently removed the replacement year option.
Students are assessed at the overseas institution and this is NOT for the third-year mark which counts towards the Durham degree.
There are two schemes available:
Overseas Exchange – for non-European placements at institution-wide partners. Recruitment: late October –December. Unsuccessful students are eligible to apply for a European exchange.
European (Erasmus+*). Students may apply to both (a) department-to-department partners and (b) institution-wide partners. Recruitment: January - February.
*Durham will continue to participate in Erasmus+ until May 2023 and will bid for Turing funding for the 2022/23 academic year when this becomes available (see: GO Turing - Durham University). The exact programme of each European exchange will be clarified prior to departure over the course of the 2021/22 academic year.
Requirements and Selection
Students should have an average grade of at least 55% in first year for selection and must maintain 55% grades in second year.
European (Erasmus+) short listing within Engineering is based on 1st year marks for department-to-department exchanges (see (2 a) above).
European (Erasmus+) shortlisting for institution-wide partners (see (2 b) above) is based on academic (class rank) performance (25%).
Selection for university-wide non-EU Overseas Exchange places (see 1 above) is based on a personal statement (75%) and academic (class rank) performance (25%).
Appropriate language ability is obviously important for non-English-language instruction.
Locations
1. Non-European Overseas Exchange
A full list of our 36 institution-wide non-European partners can be found here. N.B. certain partners (notably in China) may have restrictions, however, others e.g. PolyU (Hong Kong) may also have a science focus.
2(A). Europe (Erasmus) Scheme (Department level exchanges)
| | | | | | | | |
| --- | --- | --- | --- | --- | --- | --- | --- |
| Partner Code | Partner Name | Country | Language Requirement | Number of Places | UG | PGT | PGR |
| D STUTTGA01 | | Germany | German | 2 | X | X | X |
| D BERLIN02 | | Germany | German | 2 | X | X | X |
| F LILLE91 | | France | French | 2 | X | X | X |
N.B. The International Office is currently renewing all legal agreements with these partners, to bridge the exit from Erasmus+. The list will be confirmed prior to recruitment in January.
2(B). Institution-wide Agreements
The University has 25 institution-wide agreements with universities in 15 different EU countries, to which students from all departments, including Engineering, may apply. A full list may be found here.
Examples of Locations (Europe)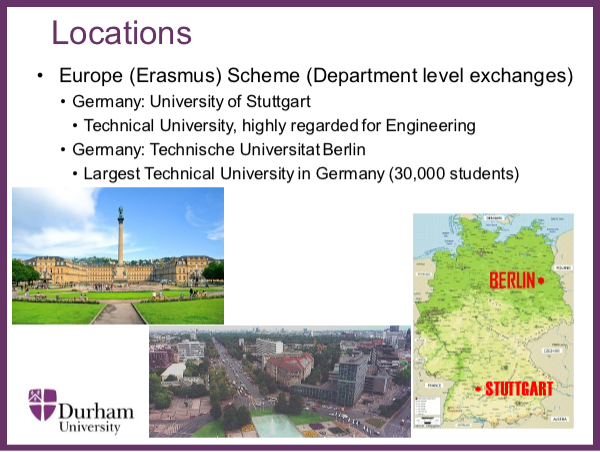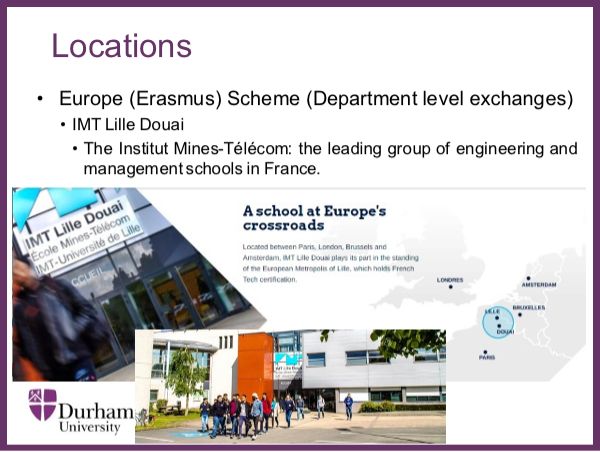 Language
The host university may require students to show certification that proves they meet the required language level.
Where the language of instruction is not English it is obviously important to have adequate language skills. For example:
An A grade at A-Level is usually more than adequate.
GCSE + further study at Durham is also OK.
The Centre for Foreign Language Study can provide language support for students looking to learn a language or maintain alongside their degree:
More details about languages for a year abroad can be found here.
How to apply
Information about the application process will be available to students in Michaelmas of the second year of university.
If you have the interest, please attend the Global Opportunities Fair (20-21 October) to find out more.
Students may wish to follow: https://www.instagram.com/DUglobalopportunities/ to hear the student voice.
More information, including finance, can be found in ExchangePPT2022-2023.
Staff Contacts
Engineering Exchanges Coordinators