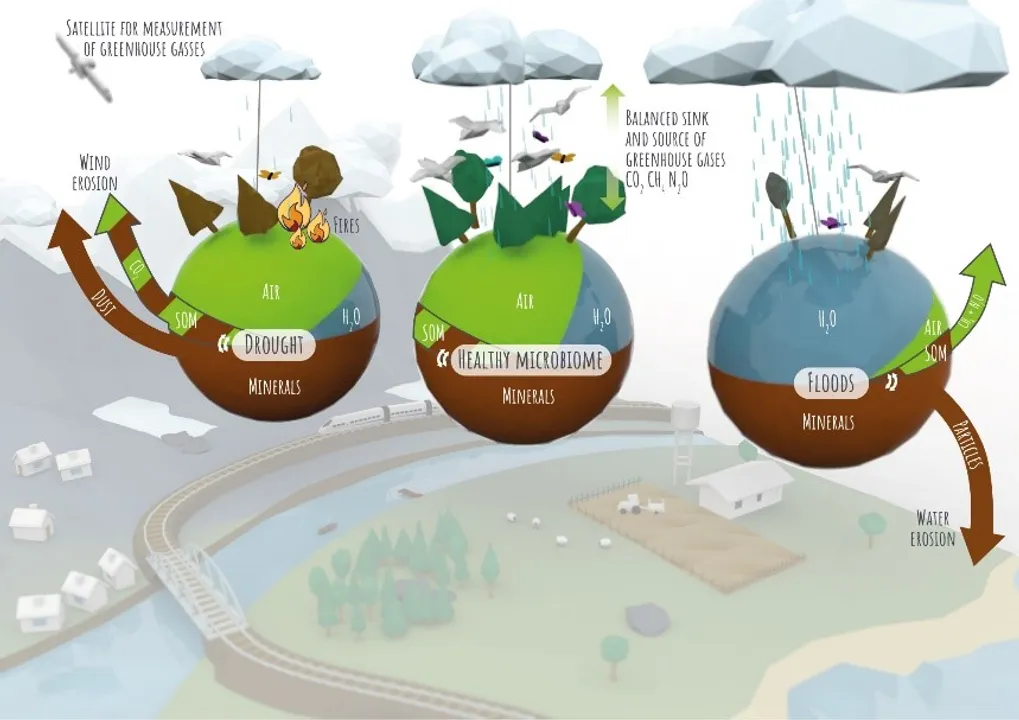 Soil health & biodiversity image
The positive correlation between soil health and underground biodiversity is relatively well understood and Diana Wall is a leading world expert in this area. However, the links between soil health with above ground biodiversity are less well understood. We will discuss these issues and consider the apparent disconnect between achieving net zero targets by building up carbon in soils and the effect this might have on biodiversity above and below ground.
Wayne Dawson (Biosciences) - Wayne is a plant ecologist, and his research has long been focused on understanding the impacts of environmental change on plant communities and ecological processes. He is especially interested in understanding the role of interactions in plant invasions, and how ongoing climate change will affect plant invasions and their impacts on resident plant communities. His research includes projects with international collaborators in Brazil, South Georgia, Germany, Austria, the Czech Republic and Norway.
Diana Wall (Colorado State Uni) - Diana Wall is an ecologist and environmental scientist recognised for her research on soil biodiversity and climate change impacts, specifically in arid grasslands and the Antarctic polar desert where she studies the response of soil invertebrates to climate change. Her research has emphasized how life in soil, from microbes to invertebrates, contributes to ecosystem processes and benefits humans. Diana is currently Scientific Chair of the Global Soil Biodiversity Initiative, a scientific initiative helping to bring global soil biodiversity science to environmental agendas. She received the 2013 Tyler Prize for Environmental Achievement, and was honoured with the 2017 Eminent Ecologist, Ecological Society of America and the 2019 President's Medal of the British Ecological Society. She is a Fellow of the American Association for the Advancement of Science, received the Ulysses Medal, University College, Dublin, and holds an Honorary Doctorate from Utrecht University, The Netherlands. She was elected to the National Academy of Sciences in 2018. She is the Director, School of Global Environmental Sustainability and University Distinguished Professor at Colorado State University.
Karen Johnson (Engineering) - Karen is passionate about soils and working with partners across the world to rebuild degraded soils. She studied Natural Sciences and worked in the Water Industry before moving to Durham as an environmental engineering lecturer. She believes rebuilding soils will help with delivering the UN's 17 Sustainable Development Goals. She has worked with the UK Government, helping to launch the UK's Soil Health Inquiry back in 2016 and is now just starting to work with the UN on a rebuilding soils agenda. Her main scientific expertise is in carbon sequestration on minerals like iron and manganese oxide and she is interested in how this science can help us use soils to achieve net zero by 2030. But this is not just a technical matter, the rebuilding soils agenda involves working with social scientists, businesses and communities as well as many other disciplines, and this interdisciplinarity is at the heart of what she does.
To book a place at this event please visit our EvenBrite page.