National Volunteers' Week 2023: celebrating our alumni
Date: June 2023

From Thursday 1 - Wednesday 7 June 2023, we marked National Volunteers' Week in the UK.
We celebrated all in our amazing Durham alumni community who generously give their time to volunteer.

Giving at Durham can take many forms - from inspiring current students to follow in your footsteps by recounting your career journey, to getting involved with your local Alumni Chapter to host events, or even offering a work opportunity to a current student through your business, there are plenty of options available.
And not all involve standing up in front of others. You can write a testimonial, an alumni profile, career story, or join us virtually to write replies to prospective student queries during an information session. Your expertise and experiences are inspirational and powerful, and can be used across the University within Departments, Colleges, on social media or other digital formats. It doesn't need to take long either, so if you only have a little time, our team can match you up with an appropriate volunteering opportunity to suit your needs.
Read on to discover some of our alumni volunteers, what they do, and how long they have volunteered for.

Nkilinwa Obi (MBA, Hatfield College, 2021-22)

"In 2015, my friends and I initiated the 'Feed for One Day' project to
assist those in need in our community. Thanks to the support of our network, we have been able to raise funds each year to continue this effort.
"Over the years, we have been able to cover expenses like school fees for underprivileged students and medical bills for those who couldn't afford them at public hospitals.
"In 2022, we were officially registered as The Giveback Uplift Society. This organization holds a special place in my heart because I have witnessed first-hand the significant difference, we can make by pooling our resources and utilizing them for the greater good.
"It's incredible how small and significant contributions can positively impact people's lives, whether supporting education, improving health, or providing meals for those in need. Seeing the joy on people's faces is an amazing feeling."

Loren Jennings (MBA, Van Mildert College, 2020-22)

"Since 2013, I have been volunteering at Palace Green Library and
Durham Castle for the University, and took part in some amazing exhibitions including the Lindisfarne Gospels.
"I love greeting our visitors to our attractions and helping make sure they are both comfortable and able to learn about our cultural heritage.
"I have always been proud to welcome people to Durham, and feel immensely proud to be an ambassador for both our City, County and University."

Dayle Craske (History, Hatfield College, 2012-15)

"Volunteering on the alumni stand at Winter Graduation this year [2023]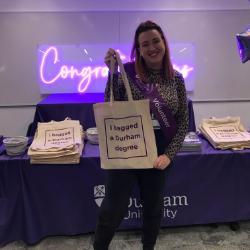 was so much fun. It was great speaking to all the excited graduates and parents who were very grateful for their alumni goody bag!
"The other alum working on the stand were so lovely and I can't wait to be involved in the next graduation!"

Lina Dede (MSc Management, University College, 2020-22)

"Speaking about my time at Durham University as well as my career after graduating in front of
potential new students was a great honour for me.
"As an alum, it is a wonderful feeling to know that your experiences are valuable to others and can help them navigate their decision-making. And what better way to help someone than to talk about the once-in-a-lifetime experience I had at Durham."

Find out more