Honouring Professor Peter Rhodes' Legacy
1 March 2023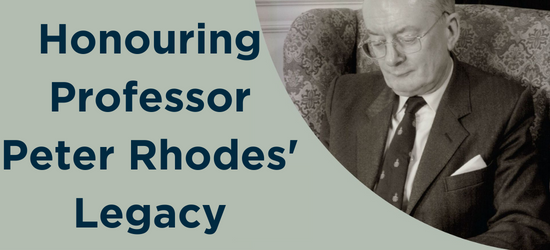 Peter Rhodes (1940-2021) was internationally renowned as an eminent historian of ancient Greece. Here in Durham, he taught for 40 years and was a devoted friend of the Department even after his retirement. He is much missed in Durham and all around the world.
In September 2022, the Department of Classics and Ancient History hosted the inaugural P J Rhodes Lecture. It was lovely to welcome so many faces, old and new, as we came together to celebrate Peter.
The Department plans to let Peter's legacy live on by providing travel bursaries in his memory. Having consulted Peter's family, we are delighted to share the news that a new fund has been established to provide travel grants to enable students to pursue their academic interests.
How can you help?
Peter had a profound impact on many scholars. It was wonderful that a number of people came forward after the lecture and expressed an interest in making a contribution in his memory. Any friends, former students, and colleagues of Peter's who would like to support the fund can donate online in his honour.
Please also save the date for the next P J Rhodes Memorial Lecture, which is scheduled for Saturday 7 September 2024.