One and a half day symposium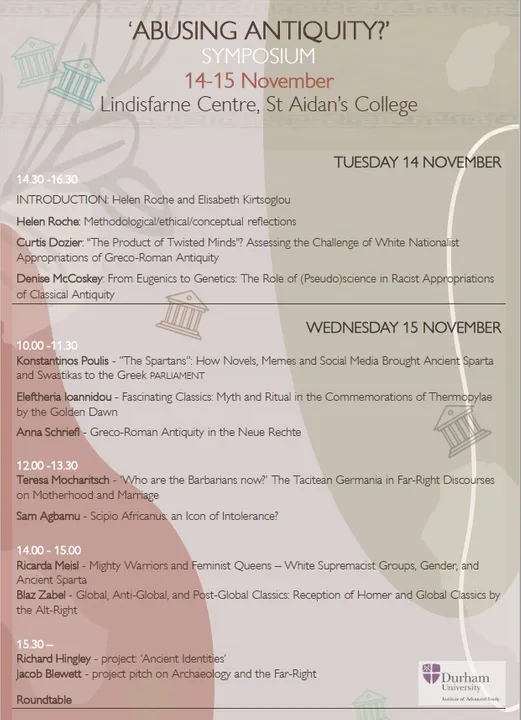 Symposium agenda
This symposium will explore contemporary far right appropriations of classical antiquity, and will interest all who seek to understand how the past can be weaponised for current political purposes.
PROGRAMME
14 November 2023
14.30 -16.30 - INTRODUCTION: Helen Roche and Elisabeth Kirtsoglou
Helen Roche: Methodological/ethical/conceptual reflections
Curtis Dozier: "The Product of Twisted Minds"? Assessing the Challenge of White Nationalist Appropriations of Greco-Roman Antiquity
Denise McCoskey: From Eugenics to Genetics: The Role of (Pseudo)science in Racist Appropriations of Classical Antiquit
15 November 2023
10.00 -11.30
Konstantinos Poulis - "The Spartans": How Novels, Memes and Social Media Brought Ancient Sparta and Swastikas to the Greek PARLIAMENT
Eleftheria Ioannidou - Fascinating Classics: Myth and Ritual in the Commemorations of Thermopylae by the Golden Dawn
Anna Schriefl - Greco-Roman Antiquity in the Neue Rechte

12.00 -13.30
Teresa Mocharitsch -'Who are the Barbarians now?' The Tacitean Germania in Far-Right Discourses on Motherhood and Marriage
Sam Agbamu-Scipio - Africanus: an Icon of Intolerance?
14.00 -15.00
Ricarda Meisl - Mighty Warriors and Feminist Queens – White Supremacist Groups, Gender, and Ancient Sparta
Blaz Zabel - Global, Anti-Global, and Post-Global Classics: Reception of Homer and Global Classics by the Alt-Right

15.30 –
Richard Hingley -project: 'Ancient Identities'
Jacob Blewett - project pitch on Archaeology and the Far-Right
Roundtable