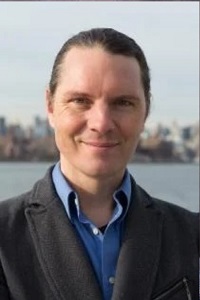 Eben Kirksey is an American anthropologist who writes about science and justice. He is best known for his pioneering work in multispecies ethnography—an approach to studying human interactions with animals, plants, fungi, and microbes. Dr Kirksey has an insatiable curiosity about nature and culture. Investigating some of the most important stories of our time—related to biotechnology, the environment, and social justice—led him to Asia, the Pacific, and the Americas. When controversy broke about the world's first genetically modified babies, Dr Kirksey spoke about ethics from the main stage of the International Summit on Human Genome Editing in Hong Kong. Later, he travelled to mainland China where he learned about the queer hopes and impure desires that animated this experiment with CRISPR-Cas9.
Dr Kirksey attended the University of Oxford as a British Marshall Scholar and earned his Ph.D. from the University of California at Santa Cruz. He has taught at some of the most renowned and innovative higher education institutions, like Princeton University and Deep Springs College, in the High Sierra desert of California. He has helped curate a number of art exhibits, including The Multispecies Salon, which travelled from San Francisco (2008) to New Orleans (2010), before settling in New York City. Duke University Press published his first two books—Freedom in Entangled Worlds (2012) and Emergent Ecologies (2015)—as well as an edited collection with the findings from The Multispecies Salon (2014). The Institute for Advanced Study in Princeton, New Jersey, hosted Dr Kirksey for the 2019-2020 academic year, where he finished his latest book: The Mutant Project.
Currently he is Associate Professor (Research) at Alfred Deakin Institute in Melbourne, Australia, where he is studying The Promise of Multispecies Justice, the chemical turn in the humanities, and the circulation of viruses in multispecies worlds.
During his Fellowship, Dr Kirksey will contribute to the IAS supported major project Opportunities in Pollution, which seeks to understand the emergent relations between human and nonhuman species in the polluted landscape of North East England, and consider the opportunities that will arise with such multispecies perspective. His field-defining research will be invaluable to the project about how diverse species (microbial, animal, plant, human) adapt to the legacy of industrial pollution, as well as bring disciplines together.
Personal website: https://eben-kirksey.space/