Professor Catherine Besteman
IAS Fellow at Van Mildert College, October-December 2022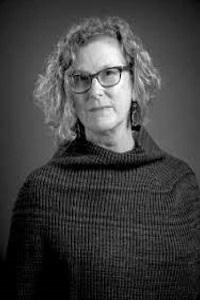 Catherine Besteman is the Francis F. Bartlett and Ruth K. Bartlett Professor of Anthropology at Colby College, USA. Her current research focuses on the intersection of race, mobility, security, neoliberalism and carcerality. Her most recent book, Militarized Global Apartheid (2020), takes up these themes to detail the emergence of iterating security regimes that police and control mobility for the benefit of capital in ways that mirror South Africa's former apartheid regime. Militarized Global Apartheid was recognized with the Public Anthropologist Prize for 2022.
At Durham, she plans to pursue research on the security imperialisms that undergird and drive militarized global apartheid, most particularly forms of carcerality. Professor Besteman will also engage with the Durham-led interdisciplinary project, The Politics of Credibility, and act as project advisor to Dr Elisabeth Kirtsoglou (Anthropology) and Dr Olga Demetriou (Government and International Affairs). The project will cast fresh analytical light on the politics of credibility that underpin asylum determination regimes in the UK and Europe (Greece, Cyprus and Germany).
Professor Besteman has done fieldwork in South Africa, Somalia, and the U.S. After conducting ethnographic fieldwork in Somalia in the late 1980s, she reunited with her former neighbors from Somalia when they began moving to Maine as resettled refugees in 2006. Her book, Making Refuge: Somali Bantu Refugees and Lewiston, Maine, chronicles their journey from war-torn Somalia, to Kenya's massive refugee camps, and, finally, to Lewiston. Her previous books include Transforming Cape Town (2008) and Unraveling Somalia (1999), and the edited volumes Life by Algorithms (2019), The Insecure American (2009), Why America's Top Pundits are Wrong (2005), and Violence: A Reader (2002). She is passionate about the power of the public humanities, and has organized statewide collaborative public humanities initiatives, including Freedom & Captivity in 2021, which promoted abolitionist visions for Maine through exhibitions, webinars, performances, workshops, classes, and podcasts.
A past President of the Association of Political and Legal Anthropologists and a 2012 Guggenheim Fellow, her work has also been supported by the Rockefeller Foundation, the American Council of Learned Societies, the Wenner Gren Foundation, the American Philosophical Society, Sigma Xi, the School of Advanced Research, and the Tinker Foundation.