Professor Michael Schutz
IAS Fellow at St Aidan's College, January - March 2023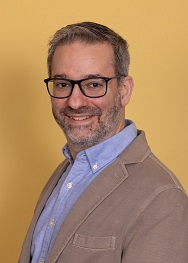 Michael Schutz is University Scholar and Professor of Music Cognition/Percussion at McMaster University, where he directs the MAPLE Lab researching Music, Acoustics, Perception & Learning (www.maplelab.net). His musical research builds on his experience as a professional musician, which includes solo recitals, freelancing, directing the McMaster Percussion Ensemble and co-founding the Canadian Percussion Network (CPN) with McGill Professor of Percussion Fabrice Marandola. This approach of combining musical research and performance has attracted over $2 million from agencies such as the Social Sciences and Humanities Research Council (SSHRC), Natural Sciences and Engineering Research Council (NSERC), Canadian Foundation for Innovation (CFI), the National Institutes of Health (NIH), and the American Academy of Audiology.
Professor Schutz's interdisciplinary approach grows organically from his unusual educational background. After completing degrees in both Percussion Performance and Computer Science at Penn State University, he earned an MM in Percussion Performance & Music Technology from Northwestern University, where he first encountered music cognition. Fascinated by music's psychological basis, he obtained an MA and PhD in Psychology from the University of Virginia under the supervision of Michael Kubovy. Synthesizing these perspectives, he now uses experimental and computational approaches to explore issues of broad relevance to musicians, educators, and scientists.
Professor Schutz's early work documented a novel musical illusion in which percussionists' body movements trick audiences into "hearing" acoustically impossible patterns. That discovery challenged our understanding of multi-sensory processing, raising important questions about scientists' use of simplistic sounds in experiments. He is now working with medical doctors, applying his team's findings to improve sounds in hospital medical devices. His TEDx talk Death by Beep? outlines shortcomings of current approaches (which have been implicated in hundreds of patient deaths), illustrating how music can play a crucial role in addressing this public health challenge (www.maplelab.net/ted).
In a parallel project, his team has developed novel approaches to the notoriously difficult problem of "unweaving" inter-related cues for musical emotion, which offers new insight into the evolution of musical communication. David Suzuki featured this project in a special episode of On The Nature of Things, which serves as the basis for his collaboration with Durham faculty Professor Tuomas Eerola and Professor Martin Clayton during his IAS Fellowship.
Recognizing his unique contributions combining music performance and research, the Penn State School of Music honoured him with their 2019 Alumni Award. Scientific honors include the Petro Canada Young Innovator Award, the Ontario Early Researcher Award, and induction as a Fellow of the Psychonomics Society. Artistically, he appears on the title track of acclaimed composer Judith Shatin's Time to Burn (Innova), has performed at numerous percussion festivals and conventions, and is an artist/endorser for Innovative Percussion and Sabian cymbals.
Events
IAS Seminar - 30 January 2023 - 1.00 - 2.00pm. IAS Seminar Room, Cosin's Hall, Institute of Advanced Study
Death by Beep? Problems and solutions with current hospital soundscapes
Registration is essential. Details here.

IAS Public Lecture/Recital - 29 March 2023 - 3.00 - 4.00pm, Concert Room, Department of Music, Palace Green, Durham University. This lecture has been re-scheduled from 13 March
Seeing Sounds and Feeling Rhythms: music as a multi-sensory experience
Further information here.
Here is a recent solo performance of Blues for Gilbert recorded at Queen's University in Kingston, Ontario
An error was encountered while parsing your video link. Please ensure that you copied the full youtube or vimeo URL. For instructions and supported types,
click here