Julie Morgan Dodds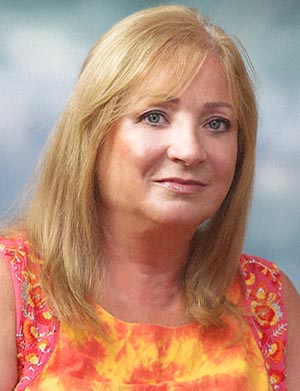 Julie is the Senior Operations Technician and Health and Safety Coordinator for the Department of Engineering. Working closely with the Technical Operations Manager, she provides management and development of Health and Safety, and facilities within the department. She has recently completed NEBOSH Certificate and holds certification for the Departments position of Building Fire Manager.
Julie has also worked as Publicity and Communications Professional, joining the Physics Department as a trainee technician, training in photography and graphic design, in the Departments Audio Visual Unit. Julie's next career move was as a fully trained technician to the Department of Applied Physics where she managed the photographic and graphics facilities of the department while also managing a trainee member of staff. She gained City and Guilds in Photography from College of Arts and Technology at Newcastle. Moving on to the Department of Engineering, Julie took over the development and management of the Departmental and Research Group websites. Her role at that time was to majorly contribute to the publicity of the department, both inward and outward facing. Sponsored by Durham University Julie achieved ILM Level 5 Diploma in Management and also BSc in Computing for Business studied part time at University of Northumbria at Newcastle.
In recent years departmental strategy and staff changes meant that Julie's continuous development took her to a new path of Health and Safety Management. In 2018 she achieved Diploma in Health and Safety from Newcastle College, enabling her to effectively fully integrate into the position which she now holds as Deputy H&S coordinator and Senior Technician (Operations). Julie holds membership in the Institute of Science & Technology (MIScT), is a member of Durham University Health and Safety Consultative Committee, Department of Engineering Health and Safety Committee, and is Level 3 award First Aid At Work (QCF) and a fully recognised MHT: Mental Health First Aider. She delivers instruction and supervision on H&S and Risk Assessment to staff members and students throughout various individual and team-based student challenges. She has recently taken on to her role the added task of building manager for fire.
Julie is an active team member of the TU health and safety inspection/audit programme for Durham University. She is also a key member of Durham University Technical Manager's Network, and a founder member of the Durham University Technicians Commitment Steering Group. which became a signatory of the National Technicians Commitment in November 2018 . Julie is an ILM accredited coach and a member of Durham University Coaching Network.
She is a member of the Science faculty EDI Committee and Deputy Director of the Department of Engineering EDI Committee. Julie is committed to life-long learning and CPD.