CODEX: Inspired by Lindisfarne Gospels 2022
Find out more
22 September 2022 - 3 October 2022
Various locations across the region with historical connection to the Lindisfarne Gospels
No admission fee (except Blackfriars Restaurant where booking is required)
The result of a collaboration between Durham University academics and the The Projection Studio, CODEX is a video and sound installation exploring the creation of illuminated manuscripts in the Northeast of England.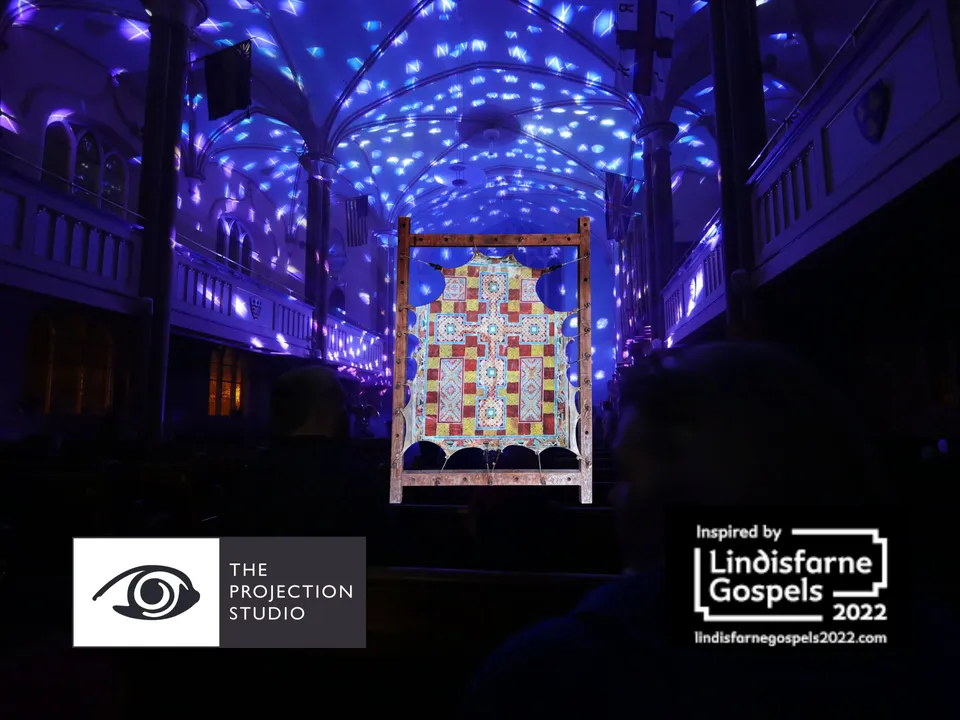 Light projection from the CODEX video and sound installation
CODEX is a creative exploration of the interlacing of the strands of connection between Northumbria and the known world, expressed in the art and texts of manuscripts dating from between 600 and 800AD.
At this time, the Anglo-Saxon kingdom of Northumbria was a creative powerhouse overflowing with a cultural fusion of Insular, Germanic, and Mediterranean art. With a thriving network of skilled people working in smithing and metalwork, chemistry, farming, and agriculture, as well as travelling across continents, they produced & obtained animal skins, pigments, gems and metals, to make exquisite bound books housing religious and practical works.
Each book - from the Lindisfarne Gospels to the world's first complete bible, the Codex Amiatinus – is a unique reflection of the relationship of the Northumbrians with the world around them.
The inspiring installation was created as a collaboration between Durham University expert researchers and leading light art company The Projection Studio. Building on Durham University's research strengths in creativity, culture, and heritage, an interdisciplinary cohort of academics brought insight from high-quality research in history, theology, archaeology, music and chemistry to inform the development of the art work. Visitors will be able to hear more about their different and unique perspectives at the events.
Please check details with each venue.
September 22nd to 24th -10.30am to 3.30pm, late opening to 7.30pm on 22nd September : St Paul's Church, Church Bank, Jarrow, NE32 3DZ
Professor Francis Watson from Durham University will be speaking on 'Codex Amiatinus: Art and the Making of a Single Volume Bible' from 5.30pm on September 22nd
September 26th - 7pm : Blackfriars Restaurant, Friars Street, Newcastle upon Tyne NE1 4XN
September 27th - 11am to 5pm and 6pm to 8pm, September 28th - 9am to 5pm : St Mary & St Cuthbert's Church, Church Chare, Chester-le-Street DH3 3QB
Professor Giles Gasper from the Department of History at Durham University and artists Ross Ashton and Karen Monid from The Projection Studio will be talking about the CODEX collaboration from 6.30pm on September 27th
September 29th - 11am to 5pm and 6pm to 8pm : St Peter's Church Wearmouth, St Peter's Way, Sunderland SR6 0DY
October 3rd - 10am to 7pm : Parish Church of St Mary the Virgin, Holy Island, TD15 2RX (NB. Please check for safe crossing times) (Rescheduled from 19th September)
Talks from Dr David Petts from Department of Archaeology at Durham University and artists Ross Ashton and Karen Monid from The Projection Studio will take place from 4pm
Pricing
No admission fee (except Blackfriars Restaurant where booking is required)
Blackfriars - £25pp
25% discount for students and academics with code STUDENT