Musicon
This Musicon season will be quite different from what we're used to. Given the current circumstances, we will not be holding concerts with a live audience for the time being. Instead, we have planned a series of thrilling online events, which will be streamed directly to your home. We are fully committed to returning to live events as soon as this can be done responsibly, but until then our online events will allow you a unique opportunity to hear some fantastic pieces, both old and new, and to ask questions as you go.
Our musicians will answer any questions posted in the YouTube chat during the concert, in a dedicated Zoom call once the event is over. You will also be able to pose written questions during this discussion, which will be put to the performers. We hope you are able to make the most of this wonderful opportunity to engage with our musicians and programmes, in this new, interactive, and cutting-edge format.
As we do not know exactly when we will be able to bring an audience back into our venues, we will be releasing our concert calendar one term at a time, so please do keep updated by checking in with us on this site, as well as our Facebook and Twitter accounts, to see what we have on offer later in the year.
***
MUSICON continues into the Summer with young piano virtuoso Ben Smith
Musicon concert series continues online with a concert by the extraordinary young virtuoso pianist, specialist in contemporary music, Ben Smith.
Premiere on YouTube on Wednesday 9 June at 7.30pm
Ben will be performing eternal returns, a programme of things that return:
things that keep going back; bending the arrow
things that regain or regrain time (memories of Mendelssohn, Bryd, Grimace, Joyce)
things that return to themselves,
retracing their steps, finding the lines as a means of recovery.
Charlie Usher - So calm and don't want to end
Rebecca Saunders - Withinnan (UKp)
Eric Egan - siúil go ciúin (wp)
Sylvia Lim - flare (wp)
Evan Johnson - mes pleurants (wp)
Ben Smith - islands (wp)
Lawrence Dunn - for piano (dancing)
This is a fantastic programme, and a coup for Durham to present a UK premiere of Rebecca Saunders, one of Europe's leading composers, and a world premiere from Evan Johnson, alongside a new work from Durham composition professor Dr Eric Egan and other young British-based talents.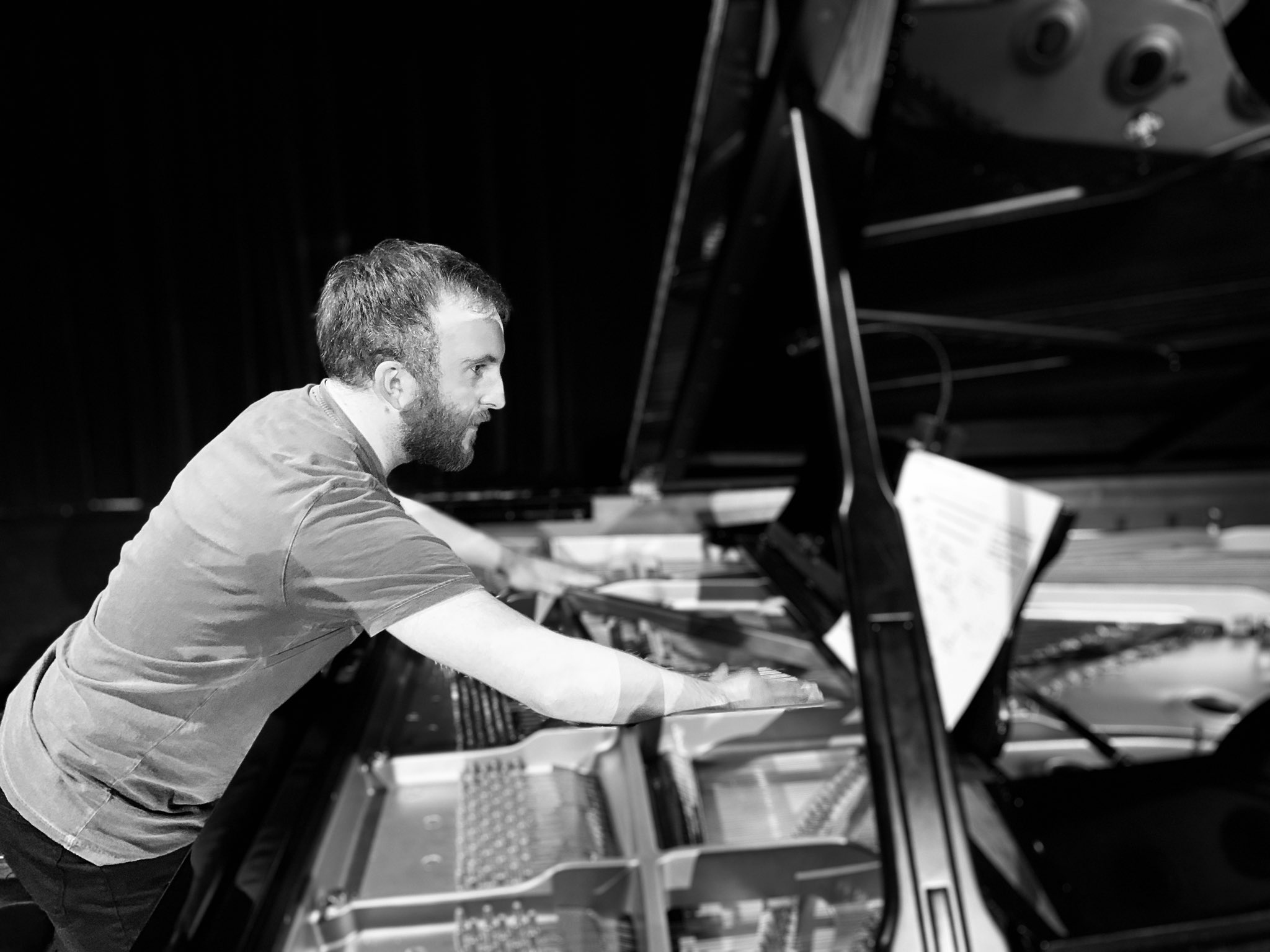 Ben Smith performing in Durham in 2020