Taught Masters in Music and Science
Music and Science at Durham
Durham's Music Department hosts a range of world-leading Music and Science research projects. Our staff members have backgrounds in music psychology, computational analysis of music, and physiological and neuroscientific approaches to music. Particular areas of expertise include music and emotions, music and memory, entrainment and synchronisation in music performance, and cross-cultural research. Staff and postgraduate students in our Music and Science Lab group come together for fortnightly collaborative research discussions, which include a range of training activities for early career researchers and MA students. Research in Music and Science at Durham is facilitated by strong links with other pathways in the Music Department, including cross-cultural studies conducted in collaboration with ethnomusicology staff members and corpus analysis projects with our performance and analysis colleagues. This research is also enabled by excellent facilities, equipment, and technical support.
What will you do?
Get to know your discipline, and why it matters
Attend seminars on state-of-the-art topics from music psychology, music computing, and music neuroscience (e.g., music and emotions, musical memory, corpus analysis)
Gain hands-on, practical experience in experimental design, quantitative and qualitative analysis
Conduct an in-depth empirical dissertation project on a topic of your choice
Develop skills that prepare you for a career in research, industry, or the cultural sector
Explore your interests in more detail
Conduct research supported by a range of excellent facilities, software for building experiments and analysing data, and specialist tools (e.g., physiology data collection kits, EEG, eye tracking)
Undertake training in research skills and resources that allows you to build knowledge of methodologies across the discipline
Choose from additional taught modules, giving you freedom to explore other areas that play to your interests (e.g., Advanced Music Analysis, modules in other departments, foreign languages)
Be part of the academic community
Benefit from close collaboration with your dissertation supervisor, as well as regular engagement with academic staff from across the Department
Join our fortnightly Music and Science Lab research group meetings of staff and students for discussions of new research projects, articles, methods, and current debates in the field
Attend regular postgraduate seminars and Research Forum sessions that allow you to engage with cutting-edge research across the discipline
For full details of the course structure and module content, visit our taught MA course page.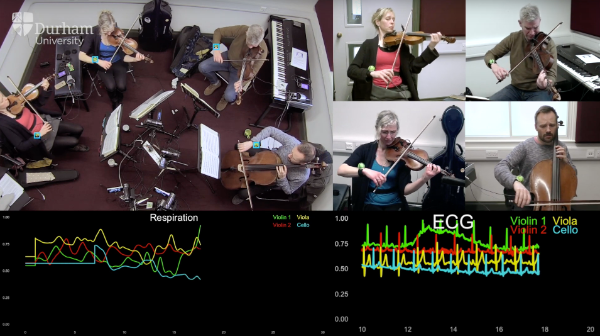 Capturing audio, video, and physiological data from a professional string quartet in our Recording Studio.
Professor Eerola demonstrating Music Information Retrieval techniques in our Music and Science Lab.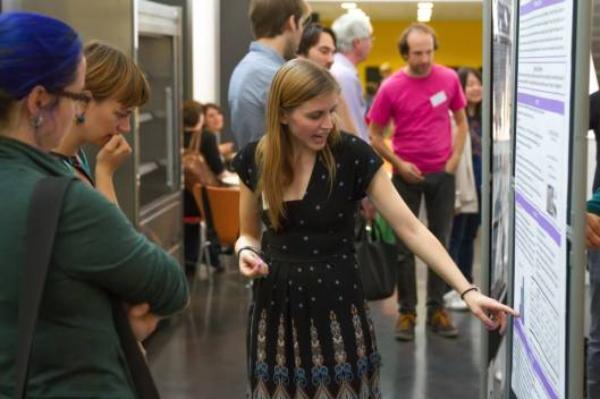 Dr Kelly Jakubowski presenting a conference poster.
What do our students think?
As this pathway is starting in 2021, we do not have quotes from past students of this pathway, but our recent PhD students offer their experiences: