Congratulations!
We will be in touch with all our confirmed offer-holders the week beginning 16 August with further information, including links to the forms mentioned below.
Admissions
Welcome from the Principal, Professor Wendy Powers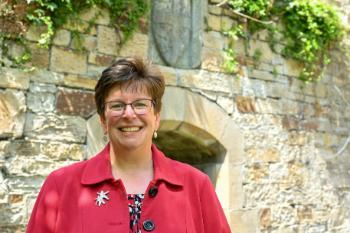 I'm thrilled to welcome you to this remarkable living learning community and hope you'll quickly feel a sense of belonging in your new home. We can't wait for your arrival, and imagine you're excited about spending your first few weeks at uni getting familiar with the spaces, people and happenings that make this such a unique community. I encourage you to acknowledge any nerves you might be feeling, but also to quiet them. Use this as an opportunity to get involved – try new things, meet new people, and ask lots of questions.
Uni is a time to explore who you are, what you believe, and where you are going in a supportive and encouraging environment. It is also a time, perhaps the single most intense time for learning about human difference. Your peers hail from around the word, practice a wide array of faith traditions or none at all, attended all sorts of secondary schools, and embrace gender and/or sexual orientation identities you may be less familiar with. Castle students engage a wide array of physical and intellectual abilities, hold varying political and social values, and embody racial or ethnic identities different from your own. These and so many other ways our students differ from one another is part of the beauty you'll experience at Durham University. Of course, living in community isn't always easy and sometimes involves difficult conversations in which we feel a bit vulnerable; however, with civility, respect and appreciation of difference as core values, we teach and learn together.
As you know all too well by now, we enjoy the privilege of living and learning in a castle on a world heritage site. This requires tremendous regard for our physical surroundings and is a shared responsibility. We are each trusted as caretakers of history while we prepare for and advance the future. We continue to live in a precarious time, in terms of the pandemic, thus we may yet experience challenges related to our events, facilities, schedules, operations and comforts. I am confident we'll work together with goodwill and patience as we create norms and routines that allow our community no matter the stage of uni/local guidelines.
In closing, please keep in mind these keys to your success as a new student in University College – those who open their hearts and minds to others, those who practice civility and respect, those who ask for assistance, and those who show up and get involved – these are the students most likely to flourish in this renowned learning community. On behalf of the entire Castle staff, we are delighted you've joined us! This community is better because you are here. Let us know if you have questions or need any support.
Floreat Castellum!
Castle flourishing always
Wendy
Checklist: things you need to do before you arrive
Before you become a member of Castle, make sure you read through the documents below and complete the relevant forms. We will also update this page with details of our Freshers' week programme and arrangements for arriving in Durham, so watch this space!
What you need to do
Where
Deadline & Notes
1. Membership Form
Complete the form; the link is in your welcome email from College
As soon as possible, within 7 days of receiving your welcome email
2. Accommodation Preference Form
Complete the Accommodation Preference Form; the link is in your welcome email from College. Our College Accommodation Guide is available here: University College Accommodation Guide 2021

If you would like to live in College Accommodation, please complete the form (link in your email) ASAP and within 7 days of receiving your welcome email.

If you have specific medical, religious or cultural needs please indicate on the form with 7 days and send your supporting evidence to univcoll.accommodation@durham.ac.uk with the subject title 'Name, Surname, Room Evidence' by 30 August.

Costs are available at www.durham.ac.uk/colleges-and-student-experience/accommodation-and-catering/costs/undergraduate-residence-charges/

3. University College Handbook
University College Handbook 2021-22
All students should read this handbook carefully before arriving at Durham. Please note you will need to confirm you have read the handbook and agree to abide by the guidance in it when you complete your college membership form.
4. Book your vaccination
www.nhs.uk/conditions/coronavirus-covid-19/coronavirus-vaccination/book-coronavirus-vaccination/
We encourage all students joining us to receive their COVID-19 vaccine before arriving in Durham.
5. Enrolment
www.dur.ac.uk/experience/welcome/arrive/enrol-online/

Make sure you complete enrolment so we can complete identity verification when you arrive.

6. Consent Matters
We require you to complete the course 'Consent Matters', accessed via Learn Ultra. A link will be emailed to you before you arrive.
7. Healthcare / GP
www.dur.ac.uk/experience/welcome/medical/
If you're moving to Durham, please register with a healthcare practice (GP).
8. JCR
www.dur.ac.uk/conference.booking/details/?id=1698
Join the Junior Common Room, our student body for undergraduate students. We will share details of how to join in the coming weeks.
9. Freshers' Week and Orientation
Our programme for Freshers' week events, starting on Monday 27 September, will be shared on our welcome webpages nearer the time and emailed to you.
We will be sending regular emails over the next few weeks so please make sure we have your current email address so you don't miss important updates.
Arriving in Durham
We look forward to meeting you! If you are arriving from overseas please find more information here, including about arrangements for quarantine, if applicable: www.durham.ac.uk/study/international/arrivals/
If you're travelling from the UK and living in College Accommodation you will be given an arrival slot for Saturday 25 or Sunday 26 September. More details will be shared in the coming weeks. Students registered with Disability Support who need to arrive early to help settle into College accommodation can do so from Wednesday 22 September. More details will be emailed to you.
Freshers' Week and Orientation
We'll be sharing more information about plans for Freshers' Week and Orientation in the coming weeks, as well as how to join the Junior Common Room. Check back soon for updates.
Castle JCR
Get in touch
If you have any queries about any of this information or any aspect of coming to Durham please contact us.
University College
Durham Castle, Palace Green, Durham, DH1 3RW
College Reception Tel: +44 (0) 191 334 3800
Covid-19 Safety
We're working hard to welcome you safely and delivering quality education and student experience. Visit our Covid Safety Information webpages for applicants for the latest advice. We can't wait to see you soon!
Covid-19 Response: Applicants and Future Students