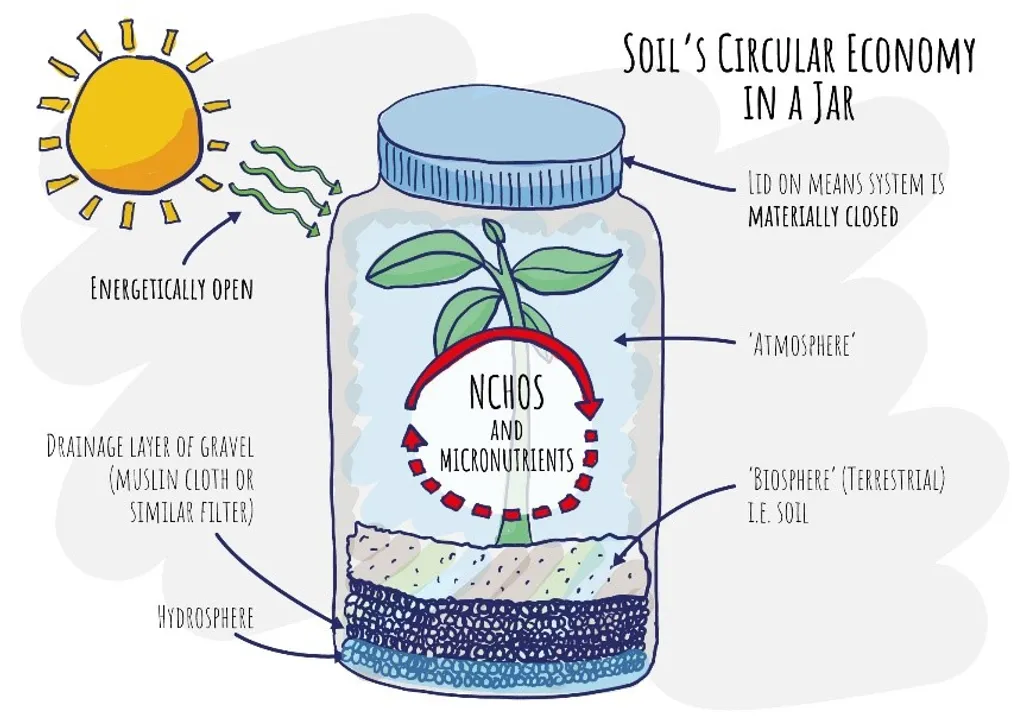 How to build a terrarium graphic
Social scientists Anna Krzywoszynska and Lena Dominelli will join physical scientists Wendy Stone and Karen Johnson and Sustainability educationalist Joanne Appleby from OASES to look at how to build terrariums. Terrariums are very fashionable at the moment but can also be used by scientists to study global biogeochemical cycles such as the carbon cycle. Effectively we can study soil's circular economy in a jar.
Social scientists are excited about their potential to foster a culture of learning to care for our environment. Together we are excited to explore the potential for communities to get their hands dirty, helping everyone from kids to policy-makers reconnect with nature and with soil. We will have kids on the call wanting to learn how to build terrariums and we will learn from each other what they might learn about soil and climate change from this activity.
Wendy Stone (Stellenbosch) - Wendy navigates a tension between interests in microbial ecology and waste management strategies, and has been pursuing intersecting elements of both throughout her career. She studied molecular biology (South Africa), followed by a PhD in Environmental & Applied Science Management (Canada), exploring microbial impacts on the storage of used nuclear fuel in geological repositories. This multi-disciplinary exposure has continued with her work at the Water Institute (Stellenbosch University, South Africa), bridging microbiology, genetics, soil sciences, engineering, economics and law. She is currently exploring (1) the built environment microbiome: the impact of disinfectants on surface microbial ecology and the competitive exclusion of pathogens, and (2) the co-diversion of water treatment sludge wastes from landfill into agricultural applications. Linking both is an interest in the public perception of risk (the over-use of disinfectants and antibiotics, and the avoidance of wastes due to contaminants), and the role of scientific communication in minimizing fear-based societal responses.
Anna Krzywoszynska (Sheffield) - Anna Krzywoszynska is a Faculty of Social Sciences Research Fellow at The University of Sheffield. In her work and in her activism she approaches soils as a societal matter, and investigates the different ways in which soils and social groups interact with and shape one another. To enable interdisciplinary communication and public engagement with soils, Anna founded the Soil Care Network and co-founded UKSoils.org. As one of the few social scientists of soils, Anna works with UK and European national and EU-level agencies to shape land- and soil-related research and governance programmes.
Lena Dominelli (Stirling) - Professor Lena Dominelli holds a Chair in Social Work and is Director of the MSc in Disaster Interventions and Humanitarian Aid at the University of Stirling in Scotland. She was previously Co-Director at the Institute of Hazards, Risk and Resilience (2010-2016) at Durham University. She has maintained her Durham connections, especially in retaining links between former colleagues who continue to focus research on healthy soils and human well-being. She has a specific research interests in projects on climate change and extreme weather events including drought, floods, cold snaps; wild fires; health pandemics including Covid-19; earthquakes; volcanic eruptions; other disaster interventions; vulnerability mitigation and resilience; risk, especially for children and climate change, community engagement and coproduction; and participatory action research. Her research projects on various disasters include funding from the ESRC, EPSRC, NERC, the Department of International Development and Wellcome Trust and UNICEF. Lena is a prolific writer and has published widely in social work, social policy and sociology, including several ground-breaking classics, the latest being 'Green Social Work' which provides a theory and practice of disaster interventions from a social justice and sustainability perspective. She currently chairs the IASSW Committee on Disaster Interventions, Climate Change and Sustainability and has represented the social work profession at the United Nations discussions on climate change, since Cancun, Mexico in 2010. She also chairs the Special Interest Group on Disasters, SPEDI, for the British Association of Social Workers (BASW) and a founder member of the England Round Table on Disasters and Social Work. She has received various honours for her work.
Karen Johnson (Engineering) - Karen is passionate about soils and working with partners across the world to rebuild degraded soils. She studied Natural Sciences and worked in the Water Industry before moving to Durham as an environmental engineering lecturer. She believes rebuilding soils will help with delivering the UN's 17 Sustainable Development Goals. She has worked with the UK Government, helping to launch the UK's Soil Health Inquiry back in 2016 and is now just starting to work with the UN on a rebuilding soils agenda. Her main scientific expertise is in carbon sequestration on minerals like iron and manganese oxide and she is interested in how this science can help us use soils to achieve net zero by 2030. But this is not just a technical matter, the rebuilding soils agenda involves working with social scientists, businesses and communities as well as many other disciplines, and this interdisciplinarity is at the heart of what she does.
To book a place at this event please visit our EvenBrite page.