Durham Geography Photographic Competition
Welcome to the Durham Geography undergraduate photo competition! Each year we receive entries from dissertation research and fieldtrips taken around the world and from across all levels of our undergraduate community.
2023 Competition Results
In 2023, there were 29 entries and over 180 votes cast in the photo competition.
Congratulations to Matthew Fair, who won with his picture of "Peaks and Prayer Flags" featured below!
Two entries tied for second place. Congratulations to Sophie Jones for her picture of "A Green Turtle Coming up to Breathe Above Seagrass Meadows in Abu Dabbab, Egypt" and Rachel Fry for her picture entitled "A beautiful Skye."
All of this years entries can be viewed in the slide show below, with the longer descriptions of each entry viewable here.
Matthew Fair: Photo Competition Winner!
Peaks and Prayer Flags
Short description: The 6,637m summit of Phurbi Chyachu peaking through the prayer flags of Thantali during the 2023 Nepal Mountain Hazards field trip.
Location: Sindhupalchok, Nepal
Rachel Fry: Tied Runner Up!
A Beautiful Skye
Short description: With the wild heather of the Cuillins yet to bloom, it is the flurry of cumulus clouds pierced by some unexpected Easter sunlight that provides the backdrop for these three curious red deer of Skye.
Location: Glen Brittle, Isle of Skye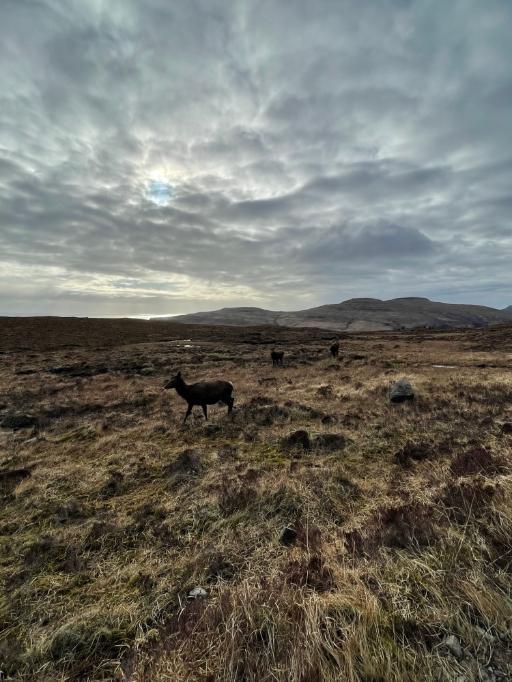 Sophie Jones: Tied Runner Up!
Green Turtle Coming up to Breathe Above the Seagrass Meadows of Abu Dabbab, Egypt
Short description: Whilst surveying the seagrass of Abu Dabbab for my dissertation data collection, I encountered a few Green Turtles curious about what I was doing placing transects and quadrats on their feeding ground.
Location: Marsa Abu Dabbab, Egypt