Music Research Forum - Dr Emily Worthington, University of Huddersfield
The Music Research Forum welcomes Dr Emily Worthing, University of Huddersfield (Image credit: Tom Bowles). Please register for the event using the link to receive the Zoom joining information.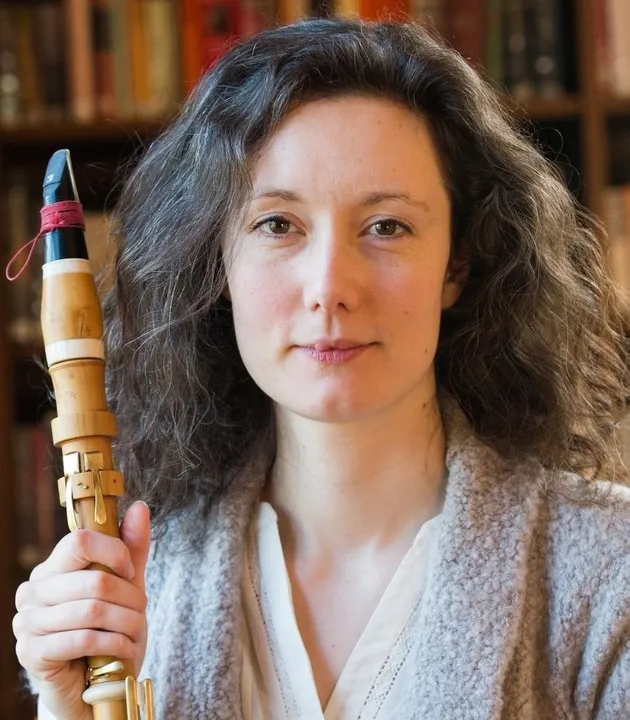 Image credit: Tom Bowles
Title : Towards a new epistemology of Historically Informed Performance
Historian Emily Robinson suggests that, for those who deal first-hand with historical documents, 'theory and research ... continue to talk at cross purposes, the one insisting that the past is unknowable, the other unable to ignore the vitality of its sources'. Robinson's words have a striking resonance for researchers in Historically Informed Performance. The shadow of the 'authenticity' debates of the 1990s is still present in the caveats we feel compelled to use when describing our work; yet as ethnographer Melodie Michel demonstrates, many younger practitioners feel that 'post-modern' conceptualizations of HIP as subjective and playful fail to account for its ability to make us feel viscerally in contact with the past.
What kind of knowledge, then, does HIP create? To answer this question I will draw on the epistemology of 'embodied technique as knowledge' put forward by theatre practitioner Ben Spatz as well as models from anthropology, experimental archaeology and other fields. In doing so, I will suggest how through re-theorizing HIP we can better reflect the experience of practitioners and support our teaching and research. This will involve shifting focus away from the representation of specific musical works and towards the process of doing HIP – the continuous cycle of exploration, rehearsal and performance that constitutes our practice. By understanding this as a process of embodied knowledge generation, we can challenge the traditional hierarchy that places practice 'downstream' of more traditional methods of historical scholarship. Moreover, by engaging more fully with the wider debate on practice research and embodiment, HIP has the potential to show the way forward for historical research in disciplines across the performing arts and beyond.
Biography:
Dr Emily Worthington is Senior Lecturer in Music Performance at the University of Huddersfield, where she co-directs the Research Centre in Performance Practices. Emily's research focusses on the practice and culture of music 1780-1950, including Classical and Romantic performing styles, the history of sound recording and broadcasting, wind music, and theories of embodied knowledge and practice-research methodology.
Emily is much in demand as a historical clarinetist, having worked as a guest principal with ensembles including the Academy of Ancient Music, Gabrieli Consort and Players, Spira Mirabilis, Concerto Copenhagen, Le Cercle de l'Harmonie and the Australian Romantic and Classical Orchestra. As leader of the Harmonie Boxwood & Brass she has released three CDs on Resonus Classics, praised as 'dazzlingly persuasive' (BBC Music magazine) and 'revelatory' (Early Music Today). Emily trained at the University of York, the Royal College of Music (London) and the Abbaye aux Dames de Saintes, and was awarded an Edison Visiting Research Fellowship at the British Library.