Conference registration
8 September 2022 - 10 September 2022
Details of registration fees and accommodation costs are available on the registration pages
The 58th Annual Conference of the Royal Musical Association will be held at Durham University between the 8th–10th September 2022.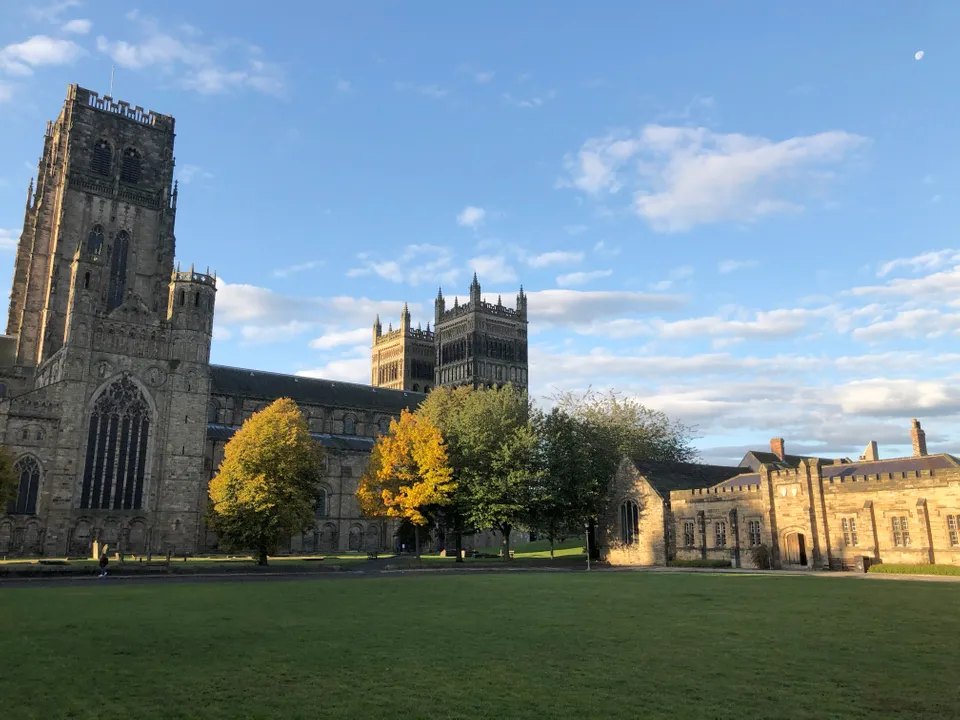 Durham University Music Department on Palace Green
Royal Musical Association 58th Annual Conference
Durham University
8th–10th September 2022
RMA Conference 2022 Programme (25/08/2022)
The 58th Annual Conference of the Royal Musical Association will be hosted by Durham University's Department of Music between Thursday 8th and Saturday 10th September 2022. The conference will comprise 45 sessions over three days, including panels, individual paper sessions, lecture recitals and composition workshops. The Dent Medal Lecture will be given by the recipient for 2021, Professor Laura Tunbridge (Oxford University). The Peter le Huray Keynote Lecture will given by Professor George E. Lewis (Columbia University). The conference will also include the Peter Manning Memorial Concert, held in honour of the late Peter Manning, composer, scholar of electro-acoustic music, Professor Emeritus at Durham and a founder of the University's electronic music studio. Despite the ongoing pandemic, we anticipate that the conference will take place in-person. We are however planning for alternative formats, in response to changing UK Government and institutional guidelines.
Accommodation
Information on accommodation in Durham can be found via the registration portal. Delegates wishing to book accommodation at Collingwood College, which is ten minutes' walk from the main conference venue, can do so via the accommodation portal, which is found here:
https://www.dur.ac.uk/conference.booking/details/?id=1970
Travel Information
Durham is well-served by national and international travel links.
By air:
The closest international airport to Durham is Newcastle, which is easily accessible from Durham by train (take the train from the airport to Newcastle Central Station on the Metro system, and then national rail services from Newcastle Central to Durham, for which the journey time is around 10 minutes). International flights can also be taken to Manchester and Edinburgh airports. Direct trains are available to Durham from Edinburgh Waverley Station (journey time is around 2 hours), and indirect travel is also possible from Manchester Airport Station (ordinarily one change of train is required, at York). Delegates travelling from London Gatwick will need to travel first to London Victoria Station and then to London King's Cross on the underground (Victoria Line). Delegates arriving at Heathrow will need either to take the Piccadilly Line, or the Heathrow Express to London Paddington, followed by the Hammersmith and City Line to London King's Cross. If you are arriving at London Stansted, you will need to take a train from the airport station to Peterborough, and then change for a direct train to Durham.
By train:
Durham is situated on the East-Coast Main Line, which is the main railway line between London King's Cross Station and Edinburgh, served by London North-Eastern Railways (LNER). There are usually two trains per hour between London and Durham; journey time is around 2 hours 15 minutes. Durham is also served by Cross-Country Trains, which travel from the Southwest of the UK (Cornwall, Plymouth and Bristol) to Scotland (Edinburgh, Aberdeen) via Birmingham, York, Durham and Newcastle, and by Trans-Pennine Express Trains, which connect Liverpool and Manchester to Durham and Newcastle.
By road:
Durham is situated on the A1, which is the principal road linking London to Scotland on the UK's east coast. Delegates wishing to drive should leave the A1 at Junction 61, which is signposted for Durham City.
Orientation
Durham is a collegiate university in the Northeast of England, dispersed around the old centre of the city. The conference will consequently take place in three locations:
The Calman Learning Centre, situated on the Lower Mountjoy site on Stockton Road.
The Music Department Concert Room, situated on Palace Green opposite the Cathedral, ten minutes' walk from the Calman Centre.
Collingwood College, which is five minutes' walk from the Calman Centre on South Road.
Directions for visiting the University can be found here: https://www.durham.ac.uk/visit-us/.
Programme Committee
Michelle Assay (RMA); Ellen Falconer (RMA); Katherine Hambridge (Durham University); Julian Horton (Durham University); Erin Johnson-Williams (Durham University); Lonán Ó'Briain (Nottingham University); Hector Sequera-Mora (Durham University); James Weeks (Durham University); Bennett Zon (Durham University).
Pricing
Details of registration fees and accommodation costs are available on the registration pages
Note for RMA members: A link for members' registration will be circulated independently by the RMA.