Book Launch: Ixion: Morton Feldman, Notation, Performance Practice and Jackson Pollock
Join us for musician and author John Snijders in conversation with composer James Weeks and CVAC director Jonathan Long, discussing his book 'Ixion' - a textual analysis of the linear language used in the early graphic scores of Morton Feldman. Co-hosted by the Durham Centre for Visual Arts and Culture (CVAC) and the Department of Music, Durham University.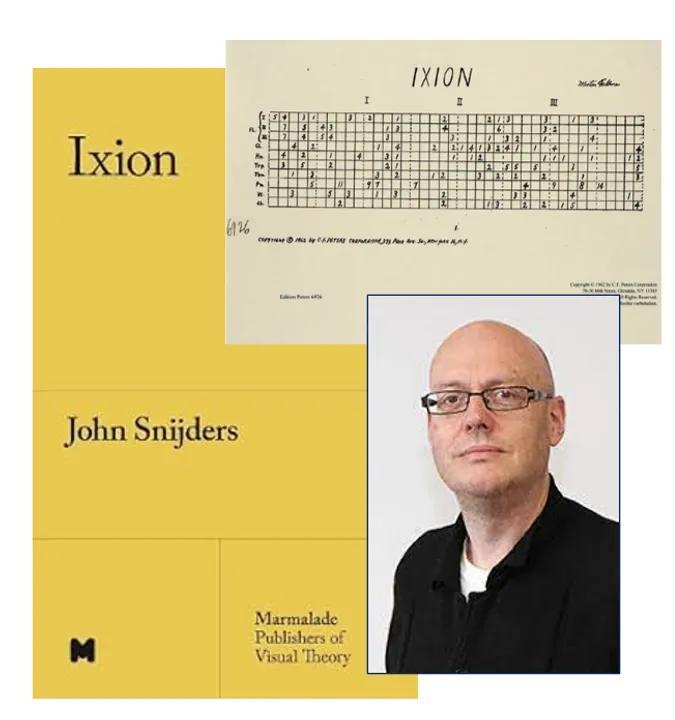 Composite image comprising photographs of musician John Snijders, the book cover for his publication 'Ixion', and a notation grid entitled Ixion produced by composer Morton Feldman
Between 1950 and 1968 the American composer Morton Feldman (1926-1987) completed a number of musical scores that experimented with using a radically new musical notational system of drawn extended grids, filled with numbers instead of pitches. These compositions were influenced by Feldman's involvement with the New York school of the Abstract Expressionist painters, especially the work of Jackson Pollock, Philip Guston and Mark Rothko.
Feldman included many painters among his friends and was profoundly influenced by the contemporary visual arts scene. Although did not believe that music should directly emulate painting, he sought to bring to music the immediacy of impact he found in contemporary abstract expressionism and Dadaism, implementing methods of composition drawing inspiration from the techniques used by these artists, e.g. Pollock's 'allover' approach to applying paint to his canvases, and Robert Rauschenberg's collage-like techniques.
John Snijders is associate Professor of Music Performance at Durham University, pianist and leader of the Ives Ensemble, Netherlands. His book, Ixion (Marmalade Publishers of Visual Theory, May 2023), explores the artistic ideas underpinning Abstract Expressionism and Feldman's graphic scores, focussing mainly on the work 'Ixion', a composition made for Merce Cunningham's 1958 dance piece Summerspace, with set and costumes design by Robert Rauschenberg.
Please join us at Durham's Music Department on 17th October, 3pm for this book launch, to hear the author in conversation with composer James Weeks and CVAC director Jonathan Long. Drinks and nibbles provided.
Sign up to the CVAC mailing list for notifications of other events and opportunities, via our secure form