O Come All Ye Faithful - Bonnie Prince Charlie and the Christmas Carol
21 December 2022

The well known Christmas carol 'O Come All Ye Faithful' is sung at festive services across the country but music expert Professor Bennett Zon claims that many people probably don't realise that the popular song has distinctive political roots.
Jacobite references
Prof Zon from the Music Department at Durham University appeared on the BBC programme 'Lucy Worsley's Christmas Carol Odyssey' explaining the Jacobite twist to the popular carol.
Prof Zon explains: "Adeste Fideles, the song which became O Come All Ye Faithful, is recognised as being the work of the 18th century music scribe, John Francis Wade, but there's far more to this beloved song than meets the eye. The lyrics written by John Wade have clear Jacobite references to the restoration to the British throne of Charles Edward Stuart - the exiled King also known as 'Bonnie Prince Charlie'.
"In its earliest forms, from the 1740s to 70s, Adeste Fideles is often found in English Roman Catholic liturgical books next to, or physically very near, prayers for the exiled monarch. In John Francis Wade's books it and other liturgical texts with 'hidden' Jacobite meaning are often strewn – even laden – with Jacobite floral imagery.
Bonnie Prince Charlie
"One important book including Adeste Fideles reveals a wealth of Jacobite imagery. Amongst other things, it portrays a colourful image of Bonnie Prince Charlie, set over the image of a diagonal cross, imitating the text on the opposite page, the great Battle Hymn, Vexilla Regis Prodeunt – 'Behold the Royal Ensigns Fly, Now Shines the Cross's Mystery! The same book has a Jacobite cryptogram in Latin on its title page, which when deciphered gives a very clear sense of its Jacobite connections."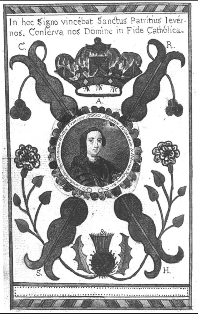 Engraved portrait of Charles Edward Stuart surrounded by Jacobite symbols
Prof. Zon goes on to say that unlike Vexilla Regis Prodeunt, Adeste Fideles is a Birth-ode to Bonnie Prince Charlie, written in praise of his birth near to Christmas, on 20 December 1720.
So 'Adeste fideles', commonly translated as 'O Come All Ye Faithful', really means Come, faithful Catholics; laeti triumphantes, venite, venite in Bethlehem, 'Joyful and Triumphant, O Come Ye, O Come Ye to Bethlehem' really means, Joyful and Triumphant Jacobites, Come to England; 'natum videte, regem angelorum'.
Prof. Zon added: "The meaning of the Christmas carol is clear: 'Come and Behold Him, Born the King of Angels' really means, Come and Behold Him, Born the King of the English – Bonnie Prince Charlie!
"Fideles is Faithful Catholic Jacobites. Bethlehem is a common Jacobite cipher for England, and Regem Angelorum is a well-known pun on Angelorum (angels)/Anglorum (English).
"Adeste Fideles seems to have lost its Jacobite meanings not long after Wade's last published book in 1773, perhaps as Jacobitism ebbed in popular consciousness and as Roman Catholics neared religious freedom in the late 1770s. The real meaning of the Carol, remains, however, although whose birth we choose to celebrate in it remains a matter of personal decision."
The festive programme is available on the BBC iPlayer here.
Find out more