Khyal: Music and Imagination
… made me listen to Indian music in a completely different way. It made it colourful and beautiful.
… made me think differently about the potential relationship between music and visual art.
Exhibiton attendees
Khyal: Music and Imagination explored the relationship between Indian music and the visual imagination. The AHRC-funded project built on our research into the ways in which Indian musicians and audiences experience and imagine classical vocal performance. With our partners Gem Arts and Durham's Oriental Museum we brought together musicians, visual artists and ethnomusicologists to explore the khyal genre and stimulate the artists to produce original works inspired by the music. This helped to bring fresh insights to a wide range of people: in schools, at concerts and festivals, and at museums and galleries. Follow this link to see a video about the project.
The exhibition
The Khyal: Music and Imagination exhibition displayed professional and amateur artworks, including those created in school workshops, alongside the music that inspired them and our Khyal iPad app. Over 50,000 people visited the exhibition over its five iterations.
November 2016 Laing Art Gallery, Newcastle
July 2017 New Walk Museum and Art Gallery, Leicester
January 2018 Oriental Museum, Durham University
June 2018 The Bhavan, London (co-organised with Sama Arts Network)
December 2018 The Nehru Centre, London (co-organised with Sama Arts Network)
To read more about the project and see some of the work displayed, download our Project brochure from the links at the side of this page.
The iPad app
The latest version of the "Khyal: Music and Imagination" iPad app, compatible with iOS 13, features optimised media to make the app light to download and run. The app is freely available for download from the App Store.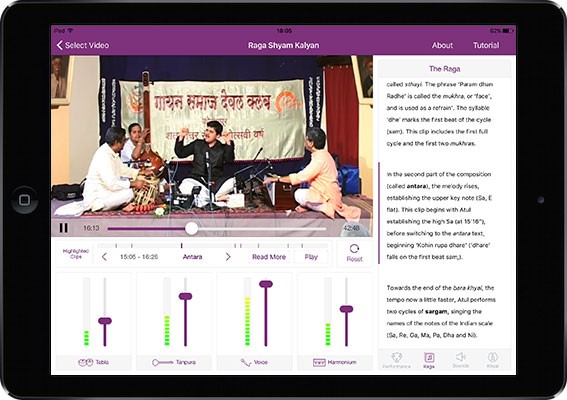 The Khyal app allows users to interactively explore two beautiful performances of North Indian classical music and learn about its form, style, and technique. The app features video recordings of two complete performances, by Sudokshina Chatterjee (Raga Miyan ki Malhar) and Atul Khandekar (Raga Shyam Kalyan).


Credits
The project was made possible by the collaboration with of our partners GemArts and the Oriental Museum as well as the efforts of the musicians and visual artists who contributed their work to the exhibition and app. We are also grateful to Sama Arts Network, developers Komodo Digital, the exhibition hosts (Laing Art Gallery, New Walk Museum and Art Gallery, The Bhavan and The Nehru Centre), and St Chads College.
Durham University team and artists: