Bringing the music of Parry and Stanford to wider audiences
Hubert Parry (1848-1918) and Charles Villiers Stanford (1852-1924)
Professor Jeremy Dibble's research specialisms lie in British and Irish music of the nineteenth and twentieth centuries, an area which includes not only composer studies, but also musical criticism and aesthetics, church music, hymnology, song, light music, opera and instrumental music.His research on Hubert Parry and Charles Villiers Stanford has helped to reinvigorate interest in the work of these once overlooked composers.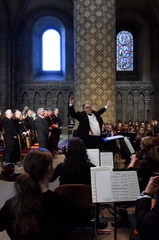 "To have one person not only researching/discovering possible repertoire but also preparing a working score/reconstruction and parts for the musicians (to a very high standard) and persuading a major record company to consider the project is rather rare".
Rumon Gamba, conductor
The broad impact of Professor Dibble's work on Parry and Stanford on performers and the recording industry can be traced by exploring the growth in numbers of published recordings. From very low levels in the 1970s and 1980s we evidence a dramatic increase to recordings of each composer's music have featured on approximately 200 commercial releases in the last decade.
Initiating large-scale projects, attracting investment
In recent years, a range of stakeholders have worked with Dibble, strategically supported by Durham University, to develop a number of large-scale projects around the work of Stanford and Parry. The project which probably best testifies to the confidence with which industry professionals and performers now look at Stanford's music is the production of operas – a sector which involves large financial investments and risks and for this reason, tends not to promote works by lesser-known composers. Despite this, Stanford's music has now been re-established in the musical mainstream to the point that two of his operas have recently been staged.

Establishing international audiences
The example of Parry's oratorio Judith (2015), for which Dibble coordinated the production of a new score from the autograph manuscript, illustrates how such large-scale productions are increasingly incorporating an international element. Key to this project was collaboration with York University, Toronto on the North American premiere.
View a performance of Judith here performed on Wednesday 3 April 2019 at the Royal Festival Hall.
Dibble's research has been funded by an AHRC Research Grant for 'The Development of the Irish Art Music Tradition between 1890 and 1990' (2007-2010).It is published by major academic presses, including Oxford University Press and Boydell & Brewer.