Virtual Search Room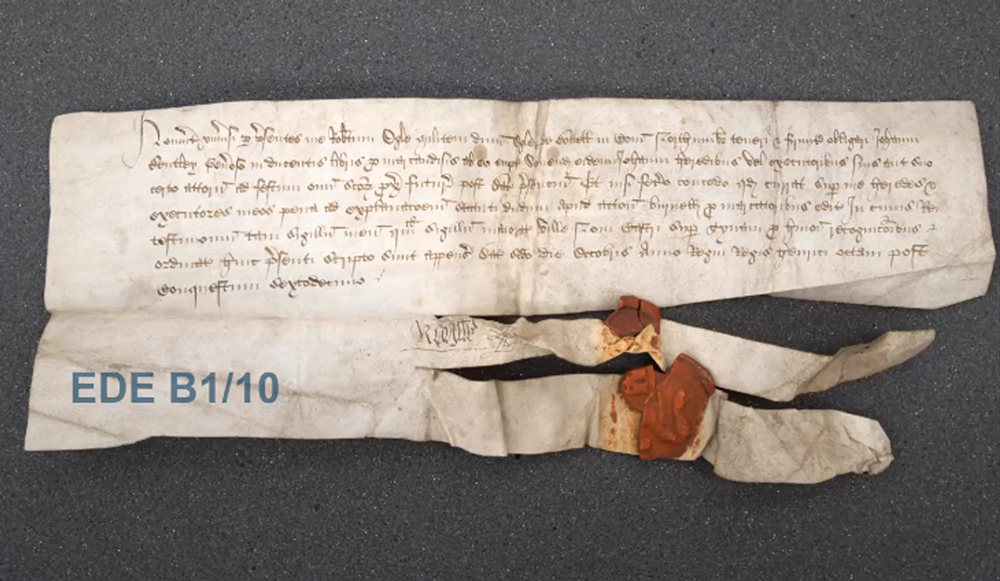 Bond by Robert Ogle, Lord of Ogle and Bothal, to John Bentley for merchandise, sealed in 1524 by Ogle and the mayor of Newcastle-upon-Tyne (Eden Papers EDE B1/10).
Our virtual service is available to enable Durham University members and external researchers to consult our collections remotely, by booking in time with a member of staff and a digital visualiser. The Virtual Search Room is currently available for collections housed at Palace Green Library on a limited, pre-booked basis, and we hope to expand this service to collections at Ushaw College Library and 5 The College according to demand and staff availability.
Please use the online form to register an interest in this service.
This is a free service and available to all
You are able to book one-hour sessions on Fridays (three working days notice is required)
Items requested must be inaccessible elsewhere and not already online
An item's condition or format must be suitable for presentation in this way
How it works
A member of our Archives and Special Collections staff will operate a digital visualiser to live stream an overhead view of an item to your PC or laptop. All you will need is an email account, access to Zoom, an internet browser and, as the live stream has audio, a working speaker and a microphone. We can answer the odd question as necessary, just as we would in our Search Room in normal times but cannot offer detailed interpretation or contextualisation.
How much material to request
Virtual Search Room sessions might be best used to closely consult a very small number of documents or items or to browse a few files in order to narrow down a list of items to be copied. When we have received your form, we will review your request and then be in touch to confirm or advise further.