Chris English Profile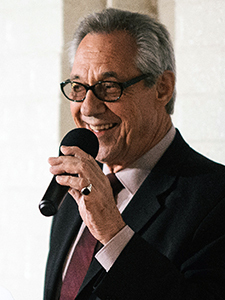 What year did you graduate?
1968
What subjects did you study prior to arriving in Durham (e.g. A-level, IB, or equivalent)?
A-level, Geography, English History and S-level Geography.
Which degree programme did you study at Durham and why?
BA (Hons) Geography. In the sixties there were no business undergraduate degree courses available and Geography offered some breadth of study with added subsidiaries in Economics. I was planning on a career in industry, ideally in marketing.
What were the highlights of studying at Durham?
The experience of moving from a cloistered, rural home life with school six days a week to the freedom of college life was exhilarating and adventurous; sometimes too much so. As a jock the chance to play hockey and some cricket (pesky exams in that term!) was also brilliant. The courses were interesting, challenging and varied and field trips to Ballycastle and Bagni di Lucca (where I revisited for my seventieth birthday celebrations with friends) were special experiences too.
What was the topic of your third-year dissertation?
'Dover: A Port in Transition' where I looked at the impact of a channel tunnel (which I predicted would probably be operational by 1975!) on both trade and passenger traffic on the local economy. As the typist used carbon copy in those days I also photocopied all my graphics and still have a bound copy on my bookshelf!
What are you doing now and how did your degree help prepare you?
I am now retired but I had a long career in the health care field working in Europe, Africa and the USA before retiring to the Caribbean. I did indeed become a marketeer before moving into general management and led the launch of several significant life-saving products in the medical diagnostic field. I suppose it must have opened my eyes to a world view as I ended up leaving the UK in the seventies and working and living in other countries. I also married a Zambian!
What other skills did studying at Durham help prepare you for the world of work and your future career?
I feel the approach in those days was much more hands-off and we were left to develop at our own pace, taking responsibility for our work schedules and submission of assignments. It was also competitive; I believe we lost close to 20% of our first year intake after the preliminary exams. Much more emphasis on process rather than content meant the need for self-motivation loomed dauntingly large. Strangely, from the year I left Durham until I retired, after an initial immersion in the pharmaceutical industry, I worked mainly with and alongside scientists in the bio-sciences despite no scientific training outside of the work environment. This initially and serendipitously created a motivating stepping stone from academics into the work place quite seamlessly as I obviously had to acquire enough knowledge to be productive and continue to study. The collegiate life style and camaraderie of Durham college life put me at ease with different people with differing interests and experiences which became more important and served me well as I moved up the corporate ladder and, in later life, running biotechnology start-ups and managing incredibly brilliant scientists too.
With hindsight, what else would you have liked us to have taught you?
I am pretty happy to this day with the approach and lessons I eventually learned. Lectures were sparse and lab work only occurred in the second year; tutorials could be stressful but always enlightening and life affirming; becoming recognisably so in later life. In hindsight I think this taught us valuable lessons in self-discipline and solving problems for ourselves, with rigorous testing of outcomes, which we developed without being spoon-fed.