Hannah Rigby Profile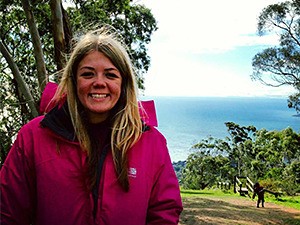 What year did you graduate?
2013
What subjects did you study prior to arriving in Durham?
A level: Geography, History, Government & Politics and French.
Which degree programme did you study at Durham and why?
My passion at school was always for Geography; I used to love fieldtrips and finding out how the world was created, so I chose to study the Geography BSc as my undergraduate degree, as a member of Collingwood College. I then stayed an extra year to complete the MSc in Risk and Environmental Hazards, also at Collingwood.
What were the highlights of studying at Durham?
I loved my time at Durham and miss it a lot now; the collegiate system gives students a chance to meet people from all courses and backgrounds and stays with you throughout your degree, almost like a family. I took up rowing at university, competing for Collingwood College Boat Club, and this experience gave me many of my university-career highlights, from competing up and down the country to early-morning training on the Wear and the socials. I'm extremely glad I chose to stay for the extra year, and I wouldn't change anything about my time in Durham.
What was the topic of your third-year dissertation?
If I'm being perfectly honest, I can't remember the exact title of my 3rd year dissertation, but it was on the topic of footpath risk in the Lake District. I basically looked at the sites of Mountain Rescue accidents in the Langdale area, and tried to determine whether or not anything could be done to make the footpaths safer, coming to the conclusion that the risk was more to do with inexperienced walkers and unsuitable walking shoes / clothing than the footpath itself.
What are you doing now and how did your degree help prepare you?
I now work for Nestlé UK and Ireland (I began in September 2014) as a SHE (Safety, Health and Environment) graduate: the perfect mix of my geography and risk backgrounds. I am based in Girvan, Scotland for a year and then spend a year in another location, before graduating from the programme. My degree set me up for this both in terms of academic background knowledge, and by developing my skills, including time management, analytical skills and my confidence, ultimately leading me to believe that I could achieve what I wanted with the foundations that were laid in Durham.