Jenny Lunn Profile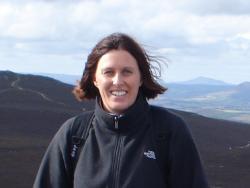 What year did you graduate?
1999
What subjects did you study prior to arriving in Durham?
A level: Geography, German and Music (a bit of a random combination but simply my favourite subjects) plus compulsory General Studies.
Which degree programme did you study at Durham and why?
I did the BA Geography programme but there were only one or two options different between BA and BSc.
At school I had enjoyed Physical Geography more than Human Geography but at Durham I found that my lack of science background (I dropped biology and chemistry before GSCE) made some of the courses, such as soils, a bit of a stretch for me.
Several students have asked me recently which track to take and, honestly, 20 years later I don't think it really matters whether you do a BA or BSc.
What were the highlights of studying at Durham?
What excited me about geography at Durham were courses in areas of geography that I had never heard of including Perceptual and Humanistic Geography with Dr Pocock and Identity Politics with Dr Painter. I really enjoyed my three years of study - it just went by too fast!
Although there were no overseas field courses on offer during my years at Durham, fieldtrips within the UK were definitely memorable - from a day trip up the Northumberland coast looking at dunes and salt marshes, to a week in South Devon which included all sorts of activities from using quadrats to measure heathland vegetation to interviewing tourists in Torquay.
Outside the classroom, I was on the university swimming team and spent much of my time in the pool and many weekends travelling around the country to regional and national BUSA competitions.
What was the topic of your third-year dissertation?
Inspired by the optional course on Identity Politics, I decided to investigate people's sense of identity in my home area of Saddleworth near Oldham. From its mention in the Domesday Book until 1974 it was part of Yorkshire before being shifted over to Lancashire in a bout of boundary reorganisation. 25 years on, I wanted to find out how people felt then and now so I interviewed people from different age cohorts. It was an interesting study into the meaning of place and landscape to people.
What are you doing now and how did your degree help prepare you?
Geography has been central to everything that I have done post-Durham. Inspired by Dr Rigg and Dr Mawdsley's courses in Development Geography and Southeast Asia, I had a gap year after graduating and worked for various NGOs in India and Nepal. That led to further studies with a MA in The Geography of Third World Development and a PhD in Geography both at Royal Holloway, University of London. In both cases my field research was in Kolkata, India investigating the welfare and social development activities of faith-based organisations.
Given my love of geography, my hope was to use it somehow in my career. Actually, I've been very fortunate to keep it front and centre of my professional life to date. I spent almost 10 years at the Royal Geographical Society (with the Institute of British Geographers) in London, followed by 2 years at the American Association of Geographers in Washington DC. Since 2017 I have worked at the American Geophysical Union, also in Washington DC. These scientific societies are a really interesting space to work as you're at the heart of the discipline, interacting with school teachers and university departments, students and researchers, policymakers and advocates, the media and members of the public, all to promote and advance the geosciences. In my current role in AGU's Publications Department, I do a lot of 'science communication' explaining the significance of scientific research in plain language to non-specialists, which I find very engaging and rewarding.
With hindsight, what else would you have liked us to have taught you?
When I started at Durham in 1996 computing was just emerging. We were given an 'email address' and I went to the 'computer room' on Sunday afternoons to send messages to my old school friends for a bit of fun. You could use Netscape to access the 'World Wide Web' but I didn't really know what that was and it was always crashing. There was a computer lab in the basement of the Geography Department and I remember once or twice crowding round a monitor being shown some remote sensing maps but it didn't mean much to me. Little was I to know how computing would completely take over our lives just a few years later. So in hindsight, I wish we had known that we were on the cusp of radical changes in technology and that GIS on computers had been taught in addition to traditional cartography.