Michael Dodds Profile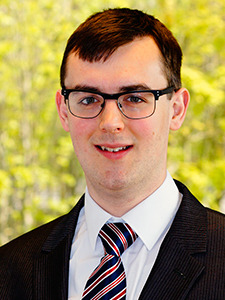 What year did you graduate?
2015
What subjects did you study prior to arriving in Durham?
A level: Biology, Geography, Mathematics and Music.
Which degree programme did you study at Durham and why?
Geography BSc. I always enjoyed Geography because the variety of topics covered gave me a greater understanding and appreciation of the world. I chose BSc rather than BA because I am more interested in the physical component of the subject, getting to grips with the science behind earth's processes. However, I've learnt that Geography makes its greatest contributions to society when the physical and human disciplines come together, applying the science to specific social situations. This interdisciplinary within the subject makes it such an interesting and useful course to study.
What were the highlights of studying at Durham?
The collegiate system at Durham sets it apart from most universities. I really enjoyed being part of a smaller community within the university - somewhere I could get involved and felt I belonged.

Of

course

with geography there are the fieldtrips, which were a highlight of my time at university.

I've

been to such a range of places, from the Isle of Skye to Portugal, and the Yorkshire Dales to Nepal! They were a fantastic chance to do field research for ourselves,

and also

a great way to get to know others on the course.
What was the topic of your third-year dissertation?
Road network resilience to landsliding risk. I firstly mapped hillslope instability in the Scottish Highlands using a soil engineering equation. Then I used topological modelling to analyse the performance of the country's A-road network in response to the potential failure of hillslopes that had been identified as unstable.
What are you doing now and how did your degree help prepare you?
I am a Transport Planner for an engineering consultancy. The course helped to prepare me in the following ways:
The spatial nature of Geography is vital for Transport Planning, which is evidently all about infrastructure and using space most efficiently for moving people.

The analytical and report-writing skills I developed through my degree are invaluable as many of the reports that I write are similar - using results from modelling or other analyses to justify a development or measure.

The mapping and computer software (GIS) skills that we were taught as part of the degree are

really useful

as the job requires use of a variety of simulation and modelling programs.

Interacting with people is vital in the job, including working with colleagues and interfacing with clients. The group working and general social nature of the degree developed my communication and interaction ability.
What other skills did studying at Durham help prepare you for the world of work and your future career?
The focus at Durham on wider personal development through participation in sports, clubs and social events has been really helpful, teaching me to balance several commitments whilst studying. This is important because being a committed employee involves participating in wider company programmes and business development. It is also likely that will have to undertake further study or training for chartership and so time management is important.
With hindsight, what else would you have liked us to have taught you?
Developing the business case for a proposed scheme/system is an important task in many jobs. Therefore, it would have been helpful if the course included teaching on economic assessment and appraisal of projects. This could be incorporated into a variety of modules, for example Environmental Process and Management, or Fluvial Dynamics.