Rachel Buckley Profile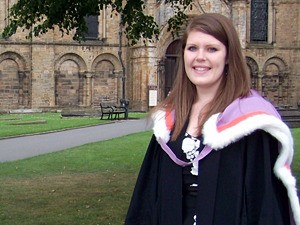 What year did you graduate?
2011
What subjects did you study prior to arriving in Durham?
A level: Geography, Maths, Psychology and IT.
AS level: Maths and General Studies.
Which degree programme did you study at Durham and why?
I studied BSc Geography at Durham. I chose this programme because Geography had always been the subject I was most interested in and enjoyed so I wanted to develop this at degree level. It was also a subject that would give me a broad set of skills that could be applied to a range of careers, as before starting university I was still unsure as to the career path I wanted.
What were the highlights of studying at Durham?
A major highlight was the ability to learn from staff who were world leading experts and passionate about their areas of specialism, as this allowed me to develop my interest in the subject and greatly improve my understanding. I also enjoyed the fieldtrips offered, my favourite being carrying out my own project on a Swiss Glacier. This was a very memorable and unique experience. In addition adding to the experience was the flexibly in module choice, which allowed me to specialise in areas I was most interested in and make the most of three years at Durham.
What was the topic of your third-year dissertation?
Controlling factors on seismically induced landslides: The Haiti earthquake January 2010.
What are you doing now and how did your degree help prepare you?
I am now a Catastrophe Modeller working for a Lloyds of London syndicate. Geography is the preferred degree to enter this field as it gives you the interest in the natural hazards element as well as the technical grounding to understand and run the models. My degree also gave me the ability to analyse data and produce conclusions that aid others understanding of the risk, a key part of my role.