Sophoe Lambert Profile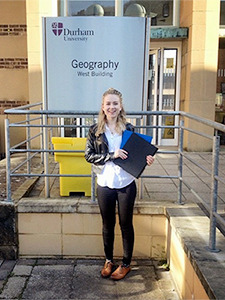 What year did you graduate?
2015
What subjects did you study prior to arriving in Durham?
A level: Geography, English Literature and Maths.
Which degree programme did you study at Durham and why?
I studied BA Geography because I'm interested in people and society. I love learning more about the world around me, the people that live in it and how they interact with each other and their surroundings. I find it fascinating to understand more about how things like politics, health and wellbeing, and development are interconnected with space and place.
What were the highlights of studying at Durham?
The diverse range of topics me the opportunity to tailor my degree and learn more about the things that interested me and getting the opportunity to discuss current global issues with world leading researchers was a real privilege.
I think it goes without saying that the fieldwork is a highlight of the degree programme. From Newcastle to Jerusalem, every research project taught me something new and allowed me the freedom to investigate issues that interested me.
What was the topic of your third year dissertation?
Everyday experiences of 'lad culture' for female students at Durham University. It can be found in the undergraduate feminist journal Threads.
What are you doing now and how did your degree help prepare you?
I'm now working as a policy adviser at the Department for Education. Developing new policy ideas, responding to Parliamentary Questions and Ministerial correspondence, it's essential to be able to draft documents well (and quickly)! Learning to write essays and reports in a clear and concise way throughout my degree has really helped me to be able to pick up this element of the role quickly, even though it was something I'd never done before. The role also involves meeting with, and presenting ideas to, senior civil servants and Ministers. Although summative presentations in modules can be a scary thought, they definitely helped me be more prepared to confidently present my views to senior officials. When you are being quizzed by a Minister on the briefing you have written, suddenly making end of project presentations to lecturers and fellow students seems like a walk in the park!
Before this role, I was working as a User Researcher at the Department for Work and pensions. I drew on a lot of skills, such as research and presentation skills, that I developed during my degree in this job and was able to build on them through the role in order to progress to my current role.
What other skills did studying at Durham help prepare you for the word of work and your future career?
Being a good team played is a really valuable skill to have in the world of work. Taking part in group research projects as well as playing a number of team sports really prepared me for both of the roles I have been in since leaving Durham and I think it's something that is valuable in every workplace.
While at Durham I also found myself discussing social issues in seminars or even with friends over meals. The social and political awareness gained through these types of conversation is really helpful when working in the civil service.
With hindsight, what else would you have liked us to have taught you?
I'd liked to have known more about the kinds of jobs available to geography graduates. The skills I learned as part of my degree really suit a number of jobs in the civil service. I'd never heard of user research until I saw the role being advertised on the Civil Service jobs website and I didn't realise how many opportunities there are to develop a career in the Civil Service without being on the Civil Service Fast Stream.