David Brooks Memorial Prize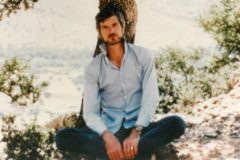 David Brooks lectured in the Department of Anthropology at the University of Durham between 1968 and 1989. During this time he was greatly admired and revered by many undergraduates, post-graduates and staff for his dynamic and highly engaging approach to social anthropology.
Following his death on April 29th, 1994, it was suggested that The David Brooks Memorial Prize should be established in recognition of his highly distinctive contribution to teaching and research in social anthropology. The objective of this fund would be to encourage, by way of an annual prize, originality in undergraduate ethnographic research and writing for third-year students. To date, numerous generous donations have been made to the Fund from some of the many people who knew and admired David.
How to Apply for the David Brookes Memorial Prize
Students who complete an ethnographic dissertation as part of their third-year studies are eligible for the award (this includes honours and joint-honours students).
1. The Memorial Fund Committee
The award is administered by a committee currently made up of:
Dr Paolo Fortis (Department of Anthropology, University of Durham)
Dr Alice Stefanelli (Department of Anthropology, University of Durham)
Dr Paolo Heywood (Department of Anthropology, University of Durham)
Dr Michael Crawley (Department of Anthropology, University of Durham)
Dr Clare Wilkinson-Weber (Department of Anthropology, Washington State University, USA).
2. Terms of the award
The award will be made to the student producing the most original ethnographic research in the form of a third-year dissertation.
The criteria is as follows:
Originality of design - including topic and scope of research.
Originality of implementation - including conduct and commitment in field research
Originality of interpretation - including analysis and theoretical insight
Originality of presentation - including quality of writing and styles of presentation (e.g. use of different media)
3. Entering for the award
If you wish to enter for the award you will need to do the following:
Produce a covering letter indicating briefly why you consider the submitted work to be a suitable candidate for the prize. Please state clearly your name, address and telephone number.
Submit a copy of your dissertation and your covering letter by email to anthropology.education@durham.ac.uk, by 23 May 2021.
(Please Note: the assessment of your dissertation for the David Brooks Memorial Fund Award is entirely independent of the assessment of the dissertation as part of your degree).
The award prize is £100 worth of book tokens. The successful applicant will be informed by letter of the Committee's decision prior to the degree ceremony each year. The verdict of the Committee is final. Exceptionally, the committee may choose to award the prize to more than one recipient in a year.
For more information on David Brooks please visit our dedicated website, The David Brooks Archive