Exploring the Nexus between Archaeology, Early Medieval Texts and Heritage in South Asia
EVENT
7 September 2022 - 7 September 2022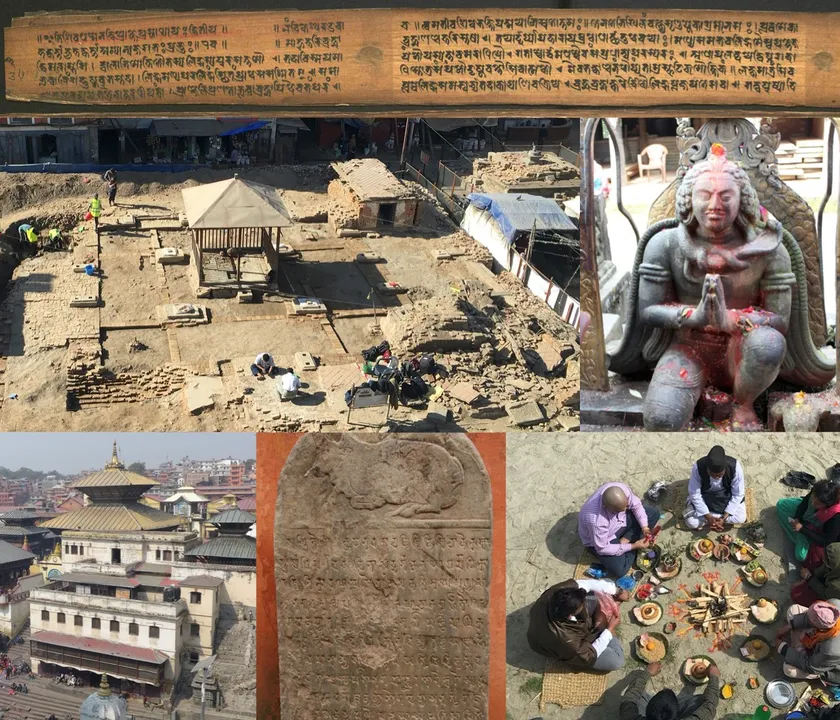 Online Event poster
Online Event: Early Career Researchers are invited to submit applications on topics exploring the nexus between archaeology, early Medieval texts and heritage in South Asia, with particular focus on the following areas:
Religion and society: contextualizing written sources
Trade and infrastructure: contextualizing material remains
New archaeological findings in light of historical narratives: synergies and ruptures
Heritage management: towards community engagement and identifying shifting intangible values
Mapping and recording heritage: new digital tools for historical reconstructions
This online Early Career Research Event takes place in association with the British Academy Conference "Licchavi Heritage at the Crossroads: Multidisciplinary Approaches to History and Heritage in Nepal" at Oxford University 5–6 September 2022. Organised by Professor Diwakar Nath Acharya of Oxford University, Professor Robin Coningham of Durham University, Dr Nina Mirnig of the Austrian Academy of Sciences, and Professor Hong Luo of Sichuan University, the conference will focus on the Kathmandu Valley's history and heritage pertaining to the reign of the Licchavi kings between ca. 3rd–9th centuries CE, a period characterized by the advent of Sanskrit culture and the region's emerging role as an important node in the Trans-Himalayan trade and cultural networks between the Indian subcontinent and Inner and East Asia. Inscriptions, manuscripts, sculptures, coinage, and archaeological evidence for expanding settlement patterns are testimony to this cultural and economic heyday in the Valley and of great value for historical reconstructions. At the same time, these testimonies are central to the identity, rituals and collective memory of local communities today. Yet, in light of rapid urbanization, the construction of mega-infrastructure and post-earthquake reconstruction, a limited understanding and continued loss or lack of documentation of this historic landscape pose a great threat to its preservation. This online ECR event expands the focus of discussion from the Licchavis to cover the nexus between archaeology, early Medieval texts and heritage in South Asia more broadly.
Milestone 1: 15th April 2022
Applicants to provide a CV (no more than two A4 pages, must confirm date of PhD/ appointment) and an abstract of the proposed paper presentation (not more than 300 words).
Milestone 2: 15th May 2022
Longlisted candidates invited to provide a pre-recorded presentation (not more than three minutes long and in MP4 format).
Milestone 3: 1st July 2022
Shortlisted candidates to submit a pre-recorded presentation (not more than ten minutes long and in MP4 format).
Milestone 4: 7th September 2022
Live Online Early Career Research Event.
ECR Definition: participants currently at PhD level or five years from PhD award and early career professionals working in heritage organisations (up to five years from first appointment).
Please direct queries to Professor Robin Coningham (r.a.e.coningham@durham.ac.uk) or Dr Nina Mirnig (nina.mirnig@googlemail.com)