Dining and Death:
Imagery

, Ambiguity

and Interpretation
Project Contact: Dr Catherine Draycott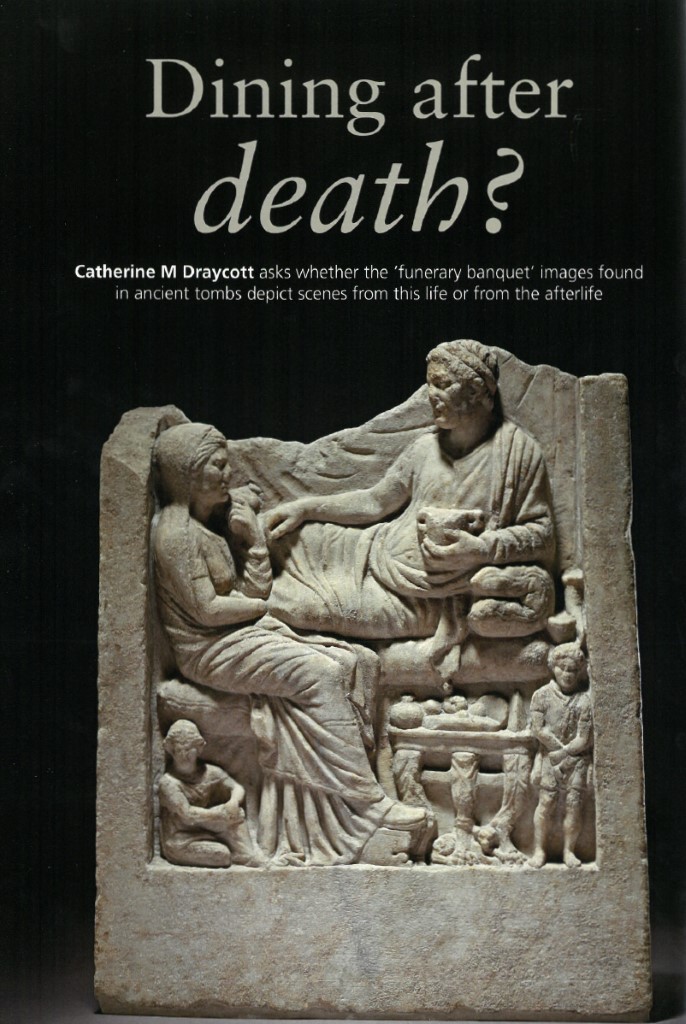 Aims
Dining and Death is a project initiated by Catherine M. Draycott in collaboration with Maria Stamatopoulou (Oxford), the aim of which has been to tackle a slippery area in the study of images, in particular imagery used to decorate tombs: the role of belief in their interpretation. It focussed on a key theme: the 'funerary banquet'—images of people banqueting, dining or drinking, shown in sculptures and paintings on tombs. Such images are widespread in Greco-Roman antiquity, but related images are also found in numerous other periods, places and cultures, from ancient Egypt to Han period China. Perhaps more than any other image type used to decorate tombs, this subject matter has puzzled scholars due to its semantic ambiguity.
Noting the tendency to eschew eschatological interpretations—that is, explanations of the images as referring to funerary rites or the afterlife—in recent, social structuralist-derived Classical archaeology, the Dining and Death project sought to
compare

whether this was also to be found in

other areas of archaeology and art history

, where

similar images were found

, and

to ask

to what extent

an either/or approach to 'meaning' is

appropriate

and useful for

understanding the

mindsets of those that produced and used such

images.
The first stage of the project brought together numerous scholars representing a range of periods and areas for a major international two-day conference at Oxford in 2010. The second phase was completed in 2016 with the publication of a significant edited volume containing papers stemming from the conference and special commissions. The book represents a key reassessment of the state of play in the interpretation of 'the funerary banquet' in a way that impacts the interpretation of imagery more broadly across disciplines.

Image above: A storage box made of sycamore belonging to Perpauty, who died c. 1370 BC (Durham University Oriental Museum EG4572). Upon the death of the owner this and two other boxes were transferred from the home to the tomb. About 40 cm high
Research Impact Groups
Material and Visual Culture
Collaboration Partner
Maria Stamatopoulou at Oxford University
Publications
DRAYCOTT, C.M. & STAMATOPOULOU, M. (eds.) 2016.

Dining and Death: Interdisciplinary Perspectives on the 'Funerary Banquet' in Ancient Art, Burial and Belief,

Leuven:

Peeters

.

DRAYCOTT, C.M. 2015. Dining after Death?

Minerva. The International Review of Ancient Art and Archaeology

Nov/Dec 2015, 46-50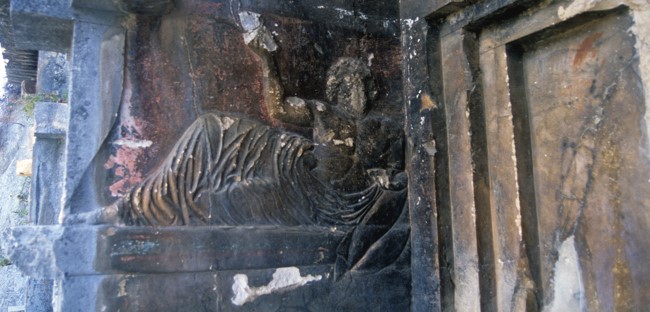 Image above: Relief sculpture on the left side of the porch of Tomb 9 (the Painted Tomb) at Myra in Lycia, southwest Turkey, showing a man reclining on a could, holding aloft a rhyton – a ceremonial pouring vessel. On the opposite side is a relief showing a woman and children, the family of the man. Other Lycian reliefs show the family group together, the banqueting motif forming the framework of a family 'portrait'. Photo by author (2003)