Endangered Archaeology in the Middle East and North Africa (EAMENA)
Background
The EAMENA Project was established in 2015 and is a partnership between the Universities of Durham, Leicester and Oxford. We use satellite imagery and ground survey to record and monitor cultural heritage sites in the MENA region in response to a growing number of threats such as agricultural expansion, urban development, conflict, and natural disasters. The project sits at the interface between two of our Research & Impact Groups, namely Landscapes of Complex Society and the Heritage Partnerships.
The documentation of the archaeological record in MENA countries has been supported by grants from the Arcadia Fund. We have subsequently obtained grants from the Cultural Protection Fund of the British Council to support in-country training of local heritage officials in the methodology of the EAMENA project – in some cases as a preparatory step towards the creation of digital national heritage inventories.
Professor Graham Philip is the co-investigator of the project at Durham, and our main in-country partners are the State Board of Antiquities and Heritage (SBAH) of Iraq, the Directorate General of Antiquities (DGA) Lebanon and the O. Lordkipanidze Archaeological Research Centre, Georgian National Museum.
Key outcomes
At Durham, our work has focused on documentation, capacity building and research in Lebanon, Syria, Iraq, and Iran. Working with the Cultural Protection Fund we have run successful training courses for our local partners in Lebanon and Iraq (2018 – 2019). These focused on satellite remote sensing, site documentation, and survey techniques for identifying and recording threats and damages to archaeological sites.
We are engaged in collaborations that seek to bring attention to the destruction of cultural heritage in conflict situations. Working with colleagues from Rashid International and Yazda we published a report on the destruction of Cultural Heritage Sites, shrines in particular, in northern Iraq during the genocide perpetrated by Islamic State against the Yezidis.
In July 2020 the EAMENA project received £3.3 million from the Arcadia Fund to continue its work a further four years. In addition, we were awarded funding from the Cultural Protection Fund to continue to deliver capacity-building activities in the MENA Region through to the end of 2020. Between now and 2024, the EAMENA project at Durham will be focused on:
Continued capacity building, knowledge exchange and documentation with our MENA partners, particularly in Lebanon, Syria and Iraq
Building digital elevation models from historical satellite imagery (CORONA) to examine the past and likely future impact of climate change in the 20th/21st centuries on cultural heritage sites
Collating, digitising and hosting historic aerial photo archives such as that held in Tbilisi by the Georgian National Museum (GNM). Developing Artificial Intelligence (AI) applications for site detection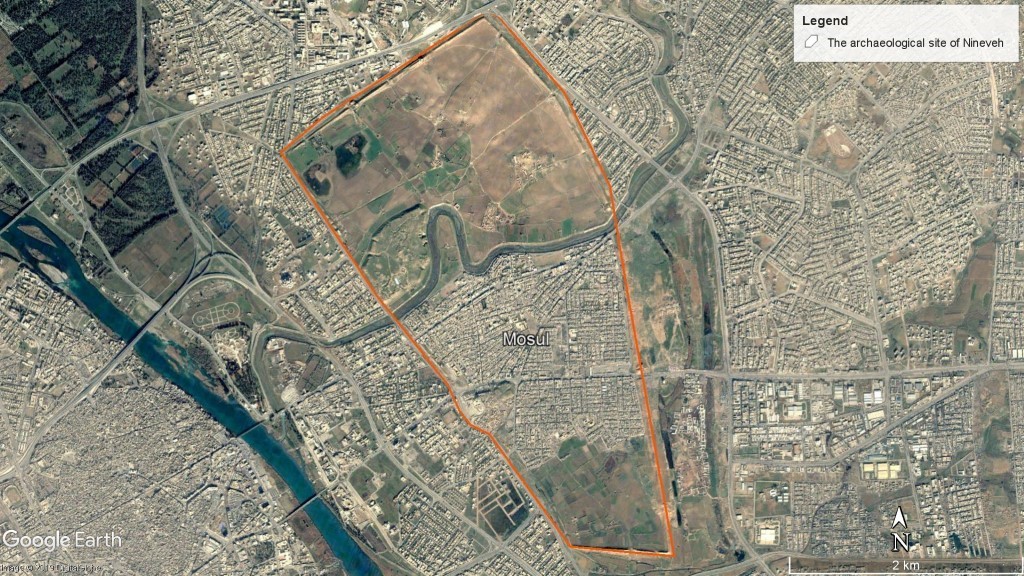 Image above: The Assyrian capital of Nineveh in northern Iraq; the site boundary is in orange. The North-West palace blown-up by Islamic State is at the top left corner. The suburbs of Mosul now cover a large extent of the lower town, illustrating the need for heritage to be taken into account when developments are being planned
Outreach & Impact activities
Case-studies that utilise the EAMENA methodology have been developed by several of our former trainees and colleagues in the MENA region. Aqeel Almansware (SBAH, Iraq) has been documenting threats such as flooding, looting and urban development and their impact on archaeological sites in ThiQar Province, in southern Iraq supported by a Global Heritage Fund Award.
Mouhamad Abdel Sater (DGA, Lebanon) was awarded a Nahrein Network grant to continue his research on site identification in the Beqaa Valley while a visiting researcher at Durham.
We have also been working with Syrian colleagues through the Council for at Risk Academics (Cara) Syria Programme to document damage to cultural heritage during the recent conflict. A Durham University Global Challenges Research Fund QR Visiting Fellowship is enabling us to support Adnan Almohamad, a former Cara Syria fellow, in his research on threats to cultural heritage in North West Syria.
A Durham University International Engagement Grant was awarded to members of the project to travel to Tbilisi to establish a collaboration with the O. Lordkipanidze Archaeological Research Centre, Georgian National Museum for the digitisation of a major archive of historical aerial photographs. The delivery of this project will be supported by Arcadia starting from summer 2020.
The EAMENA project also engages in public outreach efforts such as the production of the Our Culture Our Future exhibition. Displayed in museums across the MENA region, this exhibition aims to raise awareness of local cultural heritage sites to safeguard them for the future.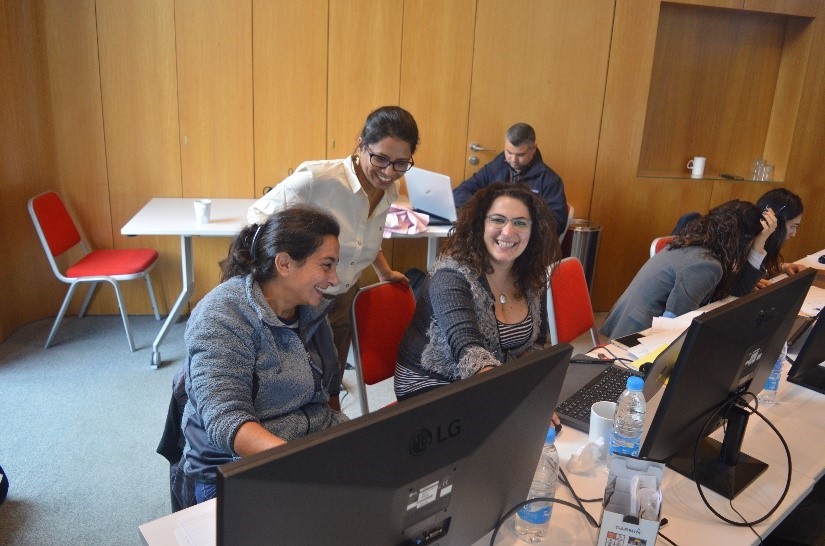 Image above: Dr Neogi our Training Manager at a workshop for DGA colleagues held in Beirut in 2019
Publications
Fobbe, S. Navrouzov, N., Hopper, K. Burjus, A. H., Philip, G., Nawaf, M.G., Lawrence, D., Walasek, H., Birjandian, S., Ali, M.H., Rashidani, S., Salih, H., Qari, D. S., Mishko, F. Yazda Sites (in press) Cultural Heritage Destruction during the Islamic State's Genocide against the Yazidis. Asian Yearbook on Human Rights and Humanitarian Law.
Abdel Sater, M. Neogi, S., Deadman, W., and Hopper, K. (accepted) Site preservation and loss in the Bekka Valley: using the EAMENA database to combine legacy data with evidence from remote sensing and archaeological field survey. BAAL (Bulletin d'archéologie et d'architecture libanaises).
RASHID International, Yazda, EAMENA Project (EAMENA Project Authors - Kristen Hopper, Graham Philip, Dan Lawrence) (2019).  Destroying the Soul of the Yazidis: Cultural Heritage Destruction During the Islamic State's Genocide Against the Yazidis.  Co-Published by RASHID International, Yazda and the EAMENA Project.
Vafadari, A., Philip, G., & Jennings, R. (2019). A tool and methodology for rapid assessment and monitoring of heritage places in a disaster and post-disaster context: Syria as a case study. In M. Dawson, E. James & M. Nevell (eds.), Heritage Under Pressure – Threats and Solutions: Studies of Agency and Soft Power in the Historic Environment. Oxford: Oxbow Books. 87-100.
Vafadari, A., Philip, G., & Jennings, R. (2017). Damage Assessment and Monitoring of Cultural Heritage Places in a Disaster and Post-disaster Event - A Case Study of Syria. ISPRS Annals of the Photogrammetry, Remote Sensing and Spatial Information Sciences LII-2/W5.
Cunliffe, E. (2017). 'Heritage Destruction: lessons from the Middle East and North Africa region for post-conflict countries', in P. Schneider (ed.), Proceedings of the 4th HCSM Conference - Catastrophe and Challenge: Cultural Heritage in Post-Conflict Recovery. 113–26.
Cunliffe, E. (2015). 'The long view: Endangered Archaeology in the Middle East and North Africa', The Oxford Culture Review.
People
Professor Graham Philip (Durham project lead)
Professor Dan Lawrence (Durham co-I)
Post-Doctoral Researchers
Dr Kristen Hopper (Arcadia)
Dr Sayantani Neogi (CPF – Training Manager for Lebanon and Iraq}
Dr William Deadman (CPF) since 2019
Former Staff
Dr Emma Cunliffe (Arcadia - to 2017)
Dr Abdelamir Hamdani al-Dafar (CPF Training Manager for Lebanon and Iraq 2017-18)
Current Research Students
Azadeh Vafadari: Assessment and Management of Damage of Archaeological Sites and Monuments and Identification and Prioritization of Responses in a Disaster (conflict) and Post-disaster (post-conflict) Context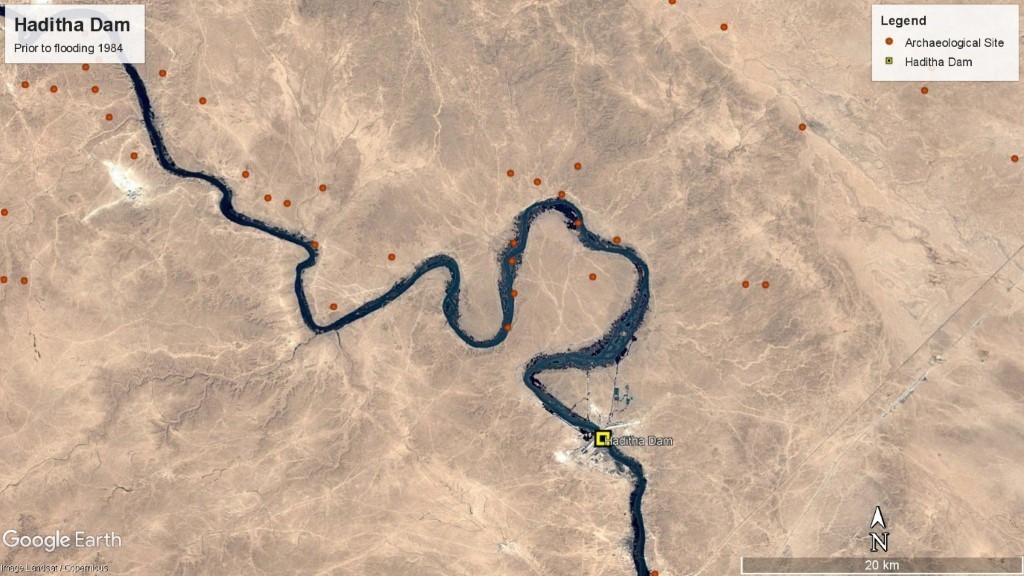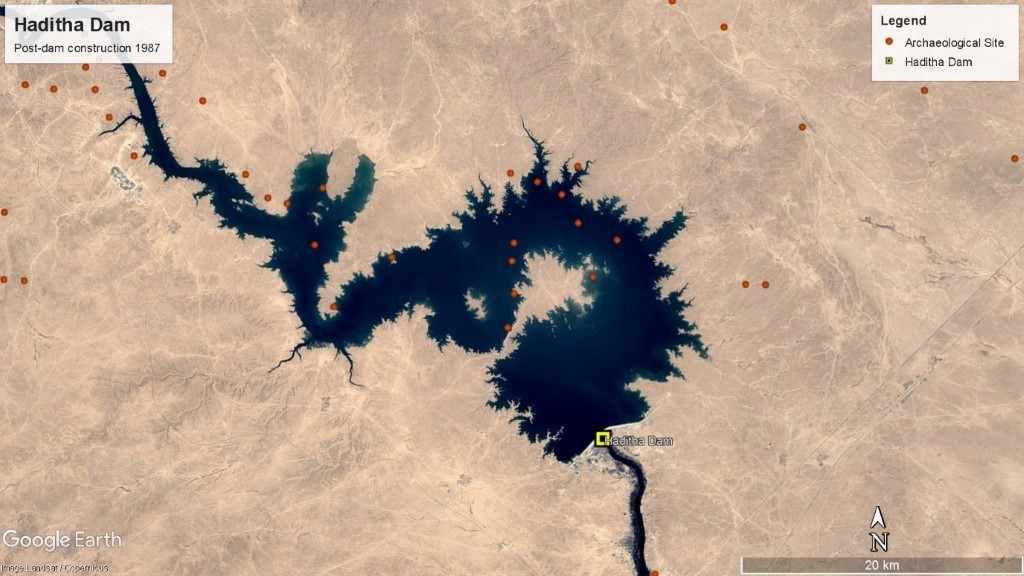 These before and after images above reveal archaeological sites along the Euphrates River in central Iraq, that were impacted by the creation of the Haditha dam which was built in the 1980s. The creation of a national inventory will mean that in future this kind of information will be available in digital format, in advance of major construction projects, thus allowing heritage concerns to be fed into planning decisions