Matthew Couchman Profile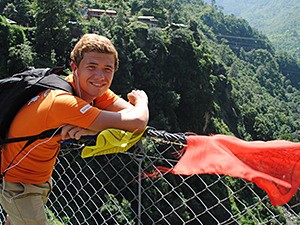 What year did you graduate?
2013
What subjects did you study prior to arriving in Durham?
A level: Geography, History and Biology.
AS level: Chemistry.
Which degree programme did you study at Durham and why?
Having thoroughly enjoyed the physical side of geography at school, I decided to study the BSc Geography programme at Durham, as a member of Van Mildert College. Durham was an easy choice for me given the excellent reputation of the department - offering high quality teaching from world-leading experts, alongside the exceptional facilities available (and not to mention the variety of exciting fieldtrips on offer!).
What were the highlights of studying at Durham?
There are so many highlights to studying in Durham it's difficult to know where to begin. The massive range of opportunities is one significant highlight, with the chance to get involved in activities both at college and within the department. For example, at my college I was involved in a number of outreach projects which gave me the chance to meet lots of new people. In my third year on the undergraduate programme I also went on a fieldtrip to Nepal, working on a project surrounding landslide hazard mitigation which has to be another personal highlight.
What was the topic of your third-year dissertation?
My dissertation explored the evidence for a recent acceleration in sea level rise in South East England, using microfossils as indicators of past sea level, and compared this with recorded tide-gauge data. It involved both laboratory and fieldwork components and the results revealed a recent acceleration in sea level rise which has occurred over the past two centuries. My dissertation allowed me to explore an area I was particularly interested in, while representing a relevant and topical project relating to climate change.
What are you doing now and how did your degree help prepare you?
After completing my undergraduate degree, I remained in Durham to complete an MSc in Risk and Environmental Hazards, building on my knowledge gained on the BSc programme. Through this course, I was introduced to the risk and insurance industry, and undertook a vocational dissertation with Liberty Specialty Markets, working within the Catastrophe Modelling team. I now work for a company called Marsh, an insurance broker, after securing a place on their graduate scheme. My studies at Durham not only helped me to discover my future career path, but prepared me for the world of work and helped me to secure employment within a relevant sector.