Bioimaging Facility: Electron Microscopy
We have a unique EM facility offering a broad range of techniques that can answer many biological (and other) questions.
Contact us
TEM and Preparation Equipment
Leica ARTOS 3D Array Tomography
Location: Biosciences Room 175
Array tomography imaging offers unprecedented capabilities for high-resolution imaging of tissue molecular architectures.
Unlike common tedious sample preparation methods, the new ARTOS 3D offers an innovative technique to simplify the workflow significantly.
The specially developed 4mm high precision diamond knife on a fully motorized stage makes it possible to accept a wide-range of substrates and collect accurately measured section ribbons on the carrier in the most careful manner without wrinkling.
Integrated direct section ribbon collection preserves section quality and the small size of a section carrier fits to every chamber, allowing a high section density for SEM analysis.
The innovative design of ARTOS 3D dynamically isolates environmental vibration and eliminates thickness variation due to air turbulences.
Bioimaging Home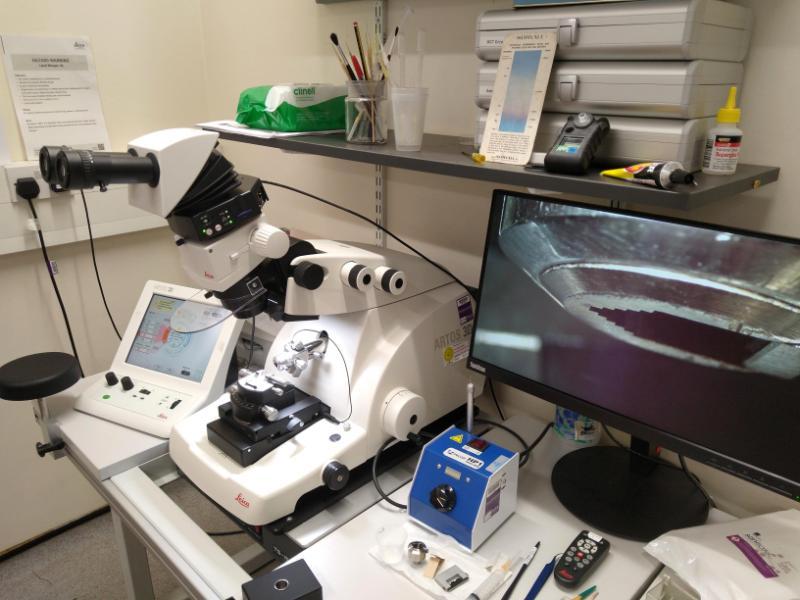 Contact us
Contact research facility manager, Chieko Itakura , to find out more about research services and project collaborations available
Electron Microscopy Facility
Room 175
Department of Biosciences
Stockton Road
Durham
DH1 3LE
Tel: +44 (0)191 334 1285
Email: chieko.itakura@durham.ac.uk