Bioimaging Facility: Electron Microscopy
We have a unique EM facility offering a broad range of techniques that can answer many biological (and other) questions.
Contact us
TEM and Preparation Equipment
Leica EM TRIM2
Location: Biosciences Room 176
Specimen Trimming Device for TEM, SEM & LM
The Leica EM TRIM2 is a high speed milling system with integrated stereomicroscope and
LED ring illuminator for trimming of biological and industrial samples prior to ultramicrotomy. It features a 1µm feed control for the milling cutter, perpendicular viewing of the embedded sample to determine position for accurate milling, and a superior extraction system with HEPA filter. A perfect pyramid and cutting face of both biological and industrial samples can be produced safely, rapidly and accurately within less than 60 seconds.
Bioimaging Home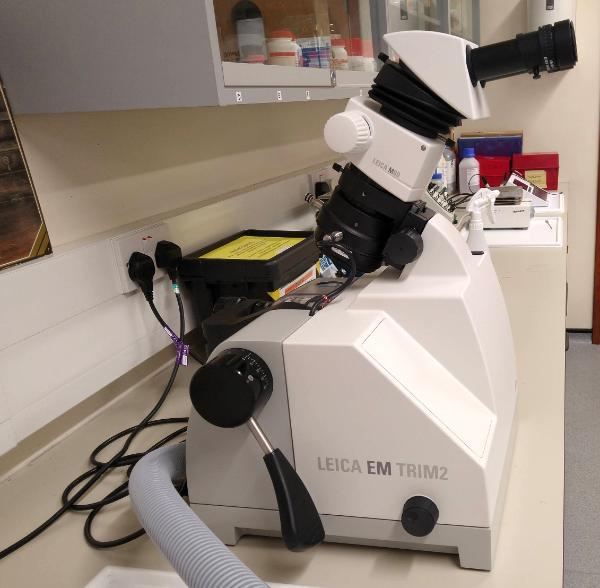 Contact us
Contact research facility manager, Chieko Itakura , to find out more about research services and project collaborations available
Electron Microscopy Facility
Room 175
Department of Biosciences
Stockton Road
Durham
DH1 3LE
Tel: +44 (0)191 334 1285
Email: chieko.itakura@durham.ac.uk