Material and Visual Culture: Research and Impact Group
Convenors

Hand stencil GS3b in Maltravieso cave, Spain (minimum age 66.7 ka) (Hoffmann et al. 2018). (Left) Original photo with indication of overlying carbonate sampled for U-Th dating. (Right) Same picture after application of the DStretch software to enhance visualization of a hand stencil.
About Us
We are united by a focus on artefacts, monuments and imagery which underpin some of our key projects. The RIG fosters new research agendas on the materiality of religion, belief, and identity, identifying new directions in the symbolic, socio-cultural and economic dimensions of monuments and artefacts. Members work with non-academic users to inform national and international collections management practices and develop better protection against theft and illicit trade. The group has given new impetus to artefact and monument research, facilitated by digital visualisation and recording tools with new analytical facilities revitalising research on ceramics, metals and stone monuments. This RIG has enhanced connections with Durham University's Centre for Visual Arts and Culture (CVAC), and Museums Service and Special Collections.
Key Projects
Activities
Our plans for 2021-22 include:
Workshop Across Technologies: is there any value left in the concept of technological variability? A 1-day ReDialogues event organized by PhD candidate Maria de Falco (Supported by Dr Kamal Badreshany and Prof. Robin Skeates).
Seminar Digital Heritage and Archaeology, with Prof Graeme Earl (King's College London) and Dr Chiara Bonacchi (Stirling University), chaired by Prof. Richard Hingley and Prof. Robin Skeates. Jointly organized with the Heritage Partnerships RIG.
Experimental workshops on glass and pottery (led by Dr Kamal Badreshany), and jet and 'Archaeo-gemmology' (led by PhD candidate Sarah Steele).
Reading group: weekly meetings of the group run by PhD students.
Seminars hosting speakers from the Rewriting World Archaeology mentoring programme.
Research
A variety of our research crosses over with the work of other Research and Impact Groups, including analysis of landscapes, archaeomaterials and isotopic analysis in combination, for example, is illuminating the organisation of commercial networks linking East Asia with the Mediterranean (Dr Derek Kennet, Dr Ran Zhang, Prof Chris Gerrard) and the exploitation of Bronze Age tin sources in Europe and the ME (Dr Ben Roberts, Dr Kamal Badreshany).
Research is also underpinned by major fieldwork programmes, such as those undertaken by Prof. Paul Pettitt, Prof. Mark White or Prof. Robin Skeates in prehistoric cave sites, or the fieldwork projects conducted by Prof. Chris Scarre or Dr Marta Díaz-Guardamino in Neolithic and Bronze Age monuments in the UK and Iberia.
Future strategic goals
Our vision is to:
1) Pioneer new questions / narratives around cognitive evolution and technological change among early human populations, exploring monumentality, sensual experiecnes, and material and visual cultures;
2) integrate our research and commercial infrastructure;
3) collect and analyse exciting new primary data through innovative programmes of problem-oriented field and labratory-based research.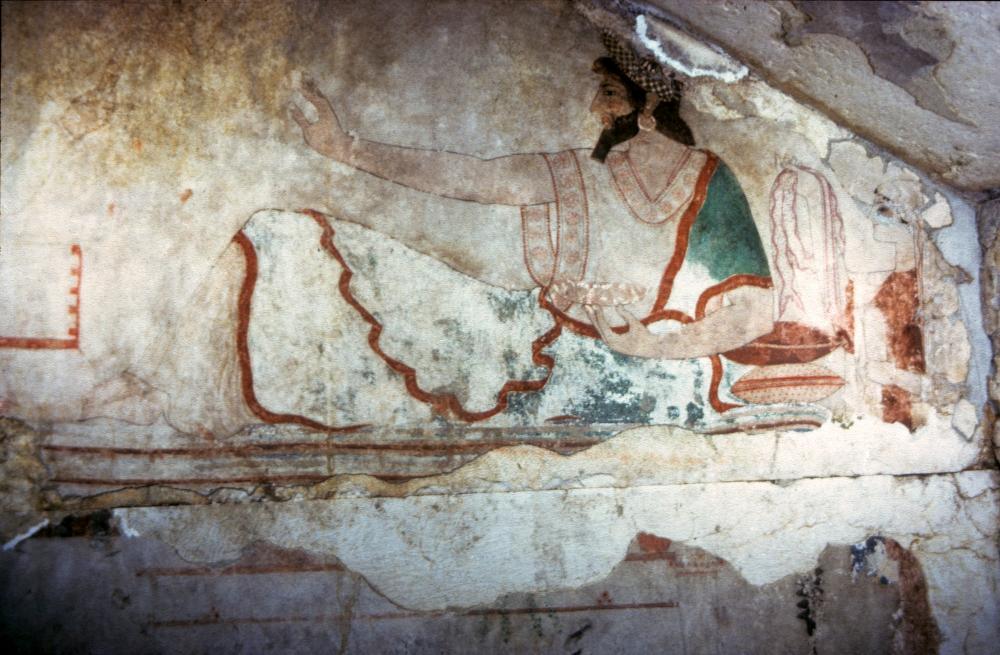 Banqueting man reclines on the rear wall of the Karaburun II tomb chamber in SW Turkey, c. 490 BC. Photo by Machteld Mellink, with permission of Bryn Mawr College.